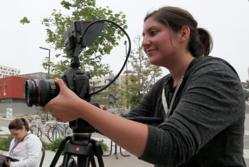 "It is very rewarding to see the fruits of their labor and artistry benefiting the community."
La Jolla, CA (PRWEB) July 22, 2012
UC San Diego Extension's Digital Arts Center Video & Editing Program participates in developing the marketing, communication and fundraising strategies of non-profit companies by providing video production services from pre-production through polished post production. In addition to helping non-profits, the public service announcements, fundraising videos, and testimonials created in the Digital Arts Center also provide students with real-world opportunities and hands-on client based experience.
This year, students are working closely with non-profit clients such as Bullets2Bandages,My Girlfriend's Closet and the San Diego Futures Foundation (See the DAC website for a complete list of the non-profit partners from the past ten years.)
When it comes time to work with non-profits, the video production class is divided in to groups of two to three students. The students meet with each client, discuss the company's communication needs, and produce a video project that helps each company achieve its specific goals in the marketplace. This is a critically beneficial resource that helps each organization grow while giving back to our local community.
My Girlfriend's Closet is an organization that collects quality, gently used clothing, shoes and accessories and distributes them to foster, homeless, and teenage girls in need. This year's Digital Arts Center students created videos targeted at a broad general audience with an emotionally uplifting narrative. The video highlights the dedication of the volunteer families and the profound effect that their efforts have on young women in need. To gain practical film set experience, the student filmmakers take on different roles in the production process, all while helping a local San Diego based non-profit organization. These videos will be incorporated into the organization's website in the fall of 2012.
Bullets to Bandages is a socially conscious apparel and unique accessories company that assists veterans, those fighting for our country, and the families who provide them with love and support at home. The accessories are made in America from once-fired bullets—they transform spent ammunition into wearable art. A portion of the company's profits are used to fund Green Beach, which works to restore independent and productive lives to disabled Veterans, while also promoting energy conservation and a clean environment. The students interviewed veterans and business leaders, and the footage will be incorporated into the websites of both organizations in the fall of 2012.
SD Futures Foundation is an organization that aims to improve the lives of people in San Diego through technology. SDFF provides equipment, software, training, services, and technical support to San Diego non-profits, small businesses, and disadvantaged residents. The Video & Editing program created short videos that showcase the foundation's efforts to provide computers to low income families and individuals who do not have adequate access to these critical education and communication tools. Students went on location to SDFF warehouses to film the intake of used computers from donors. Students also shot interviews and images of people who have benefited from the computers and training that they have received from the foundation, telling deeply personal and emotional accounts of lives transformed by the foundation. These videos will be available as promotional tools on the foundation's website in the fall of 2012.
Dawn Ford, lead video instructor for the Video & Editing program, teaches students that media production is time consuming and requires agile thinking and attention to detail, but in the end, the hard work pays off. Effective communications pieces are the result of artistic expression, collaboration between people with strong skills in many areas. As the projects come closer to the finish line, Ford is proud of what the students have accomplished: "It is very rewarding to see the fruits of their labor and artistry benefiting the community." In fact, as the list of non-profit clients continues to grow, everyone involved with the Digital Arts Center is proud to help important organizations make a positive impact on the community.
For more information about the UC San Diego Extension|Digital Arts Center career focused programs in graphic & web design, casual gaming, mobile applications and video & editing training programs, view the website at dac.ucsd.edu, see a short demo of the video & editing students work on the DAC YouTube channel.
UC San Diego Extension is a division of the university's Extended Studies & Public Programs, offering 100+ professional and specialized certificate programs in a variety of disciplines. Nearly 50,000 adult learners attend classes each year at its facilities on the UCSD La Jolla campus, the University City Center, and the Mission Valley Center.