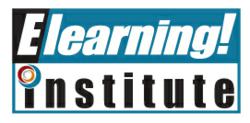 Over 93% of the respondents also said that a person with a certification would earn more money during they careers.
Corona, CA (PRWEB) July 19, 2012
The Elearning! Institute announces the launch of its new Learning Professional Certificate program today. In conjunction with that launch, a survey about hiring practices and other aspects of credentialing was published. In that survey, 89% of the respondents said that a resume credential was important during the hiring process. Seventy-three percent said they would hire the person with a certification if two candidates had equivalent education. And, 92% said they would hire the person with a certification if two candidates had equivalent experience.
"Over 93% of the respondents also said that a person with a certification would earn more money during they careers," reported Joe DiDonato, Program Director for the Learning Professional Certificate (LPC) program. "These statistics add evidence to long-held beliefs on the value of pursuing a personal resume credential in one's field of endeavor," added DiDonato.
The new LPC program was launched to provide learning professionals with recognition for the continuing learning they are completing in their field. LPC Advisory Board member, David Grebow, CEO of KnowledgeStar, said that today "knowledge has an incredibly short shelf life, and it's a learn-as-you-go world. Your current learning is a predictor of how well you will be able to perform going forward. In many ways that has a lot more value than a record of what you knew or did in the past."
The Learning Professional Certificate program awards credits for attending Elearning! Media Group web seminars and conference programming presented by experts in the field including Sal Khan, founder of the Khan Academy, Josh Bersin, Bersin & Associates and Mollie Lombardi, Aberdeen Group. DiDonato pointed out that the vast majority of the LPC qualifying sessions are free to applicants, thus helping to diminish the high cost of participating in a certification program.
The program has 5 levels of credentials; The first level starts at 25 credits (or 5 hours of education) then, culminating in a Certified Expert Learning Professional credential which requires 300 credits and an examination. One-hour webinars in the program carry a 5-credit award, while attending a one-day conference can earn 15 credits. Elearning! Institute will grant credit to those who have attended qualifying sessions since January 2011 but they must enroll in the Institute before September 1, 2012.
Not only does the LPC program give credit to those who are advancing their own education and expertise outside the workplace, but we recognize these achievements across our community.
"One of the unique parts of the program," according to Joe DiDonato, "is the sending out of 10 achievement announcements to a list of names that the LPC participant provides." Mr. DiDonato went on to say that this can be elected by participants throughout the five award levels, and provides a way to let peers, managers, prospective hiring managers, and even family and friends know about the candidate's progress. In addition, LPC graduates will be honored at the Enterprise Learning! Conference & Expo on Wednesday, September 26th at 5:00 PM in a ceremony and networking reception.
To find out more about the program, the Elearning! Institute invites potential candidates to visit the program's website: http://LPC.2Elearning.com. Cost to participate in the program is $249 in the first year, and $70 to remain in the program in subsequent years. The annual registration offers candidate unlimited certificates during the one year enrollment period.
About the Elearning! Institute
The Elearning! Institute and the Enterprise Learning! Institute are owned by B2B Media Company, LLC, a privately held trade publishing company. B2B Media Company publishes eleven-time award winning magazines Elearning! and Government Elearning! Elearning! Media Group hosts two yearly events, the Enterprise Learning! Conference & Expo and the Enterprise Learning! Summit. In addition, the Elearning! Media Group also sponsors the yearly Learning! 100 Award, which recognizes outstanding programs in both the private and public sectors. The LPC credential can be seen by over 150,000 learning and HR professionals who subscribe to the exclusive magazines focused on enterprise learning and workplace technologies, and the combined reach of B2B Media Company's 11 media products is up to 2 million executives.
About Elearning! Media Group
Elearning! and Government Elearning! magazines, e-zines, e-newsletters, Alerts, Websites and Summits are produced by B2B Media Company, LLC. Elearning! magazine is one in the family of 11 media products serving the $160 billion e-learning market. In combination, these brands reach up to 2 million executives, practitioners and professionals who plan, evaluate or deploy enterprise-wide learning solutions across their organizations. Follow us: online at http://www.2elearning.com, http://gov.2elearning.com; on Twitter: @2elearning #ELS12 #ELCE12; via Facebook: Elearning!-Magazine or LinkedIn: Elearning! Magazine Network or Enterprise Learning! Events.