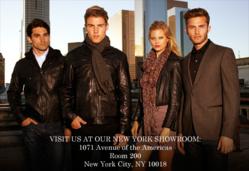 The 7 Diamonds clothing New York City showroom overlooks fashion landmark Bryant Park.
New York City, NY (PRWEB) July 20, 2012
Company Information:
7 Diamonds Clothing info(at)7diamonds(dot)com http://www.7diamonds.com
15778 Gateway Cir.Tustin, Ca 92780 USA: Ph. 714-241-7190 Fx. 714-241-7199
7 Diamonds Clothing Launches New York Showroom
7 Diamonds clothing is a globally recognized men's fashion brand that has established itself as an exemplar in the fashion industry through its innovative designs and fashion forward thinking. We are very pleased to announce the launch of our long awaited New York showroom.
After years of preparation and careful deliberation, 7 Diamonds clothing will be launching its long anticipated New York showroom. The new 7 Diamonds show room is located in the heart of the fashion district, overlooking the beautiful Bryant Park.
7 Diamonds NYC Showroom:
1071 Avenue of the Americas
New York City, NYC 10018
Phone # - (212) 997-1777
Fax # - (212) 997-1779
About 7 Diamonds:
Since its inception in the spring of 2000, 7 Diamonds has established itself as a lifestyle brand. Associated with the highest standard of quality; our inimitable products are brought to life through our focus on sophisticated designs, intricate detail and comfort.
http://www.7Diamonds.com
FOR MEDIA INQUIRIES PLEASE CONTACT:
7 Diamonds: Mo Harake - 714-241-7190 – Mo(at)7diamonds(dot)com
END