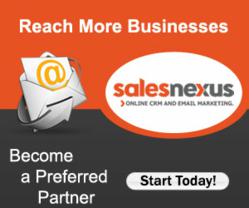 Now Partners Can Grow Their Own Business and Their Customers' Too!
Houston, Texas (PRWEB) July 25, 2012
SalesNexus, provider of the leading CRM and Email Marketing solution for sales teams, today announced it's Preferred Partner program which allows resellers and partners to connect with businesses in their target market in minutes.
The program is available to sales trainers and consultants, marketing consultants, search and email marketing firms, system integrators, IT resellers and CRM consultants throughout North America.
"This is truly a win-win-win!" Said Craig Klein, SalesNexus CEO. "Preferred Partners can reach out to the businesses they'd like to target, growing their own businesses and of course, help their customers grow as well."
Each SalesNexus Preferred Partner receives access to 1,000 business contacts of their choosing each month to connect with via email or phone. The program provides aggressive commissions on initial implementations as well as on-going renewals. In addition, partners receive unmatched, dedicated Partner Training and Support.
"We've always set ourselves apart from the rest of the CRM and Email Marketing technology companies by focusing on partnering with our customers to ensure they achieve their goals.", said Klein. "Now our Preferred Partners can enjoy the benefits of growing their own businesses aggressively while helping their customers grow their businesses."
SalesNexus will host an informational webinar, "Grow Your Business and your Clients' Too! – Overview of SalesNexus Partner Program", on August 15th, at 4pm Eastern / 1pm Pacific.
Those interested can learn more and register for the webinar on the SalesNexus Partner Site.