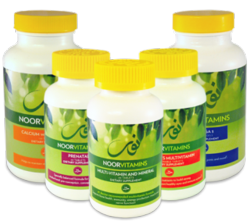 At Noor we don't see giving back as an obligation; instead it's a privilege to be given an opportunity to help
New York, NY (PRWEB) July 21, 2012
Launched a little more than a year ago, NoorVitamins offers the first-ever, scientifically-formulated, Halal vitamins for health conscious Muslims. Noor Pharmaceuticals is the only US based pharmaceutical company, specializing in manufacturing and commercializing halal-certified vitamins, all of which are manufactured in US FDA-certified facilities.
It is recommended that all adults and children take a multivitamin to maintain general health. It is even more important to take such vitamins during Ramadan because food and drink intake (especially fruits, vegetables, and liquids) is limited for Muslims. However, for Muslims, this is sometimes a burden since many vitamin brands contain gelatin and other non-halal ingredients.
NoorVitamins offers the alternative for health conscious Muslims, the first scientifically formulated, halal-certified vitamins produced in US based FDA-certified facilities.
To celebrate Ramadan 2012, NoorVitamins has launched the Ummah Project 2012. Ummah means "community" in Arabic. Dr. Mohamed Issa, President of NoorVitamins shared, "Ramadan is not only a month of worship for Muslims but also a month of compassion. At Noor we don't see giving back as an obligation; instead it's a privilege to be given an opportunity to help."
Ummah Project 2012

For Every bottle of Halal vitamins sold on http://www.NoorVitamins.com, Noor is donating a meal to help feed the hungry through Muslims without Borders.
NoorVitamins will be on tour across the US visiting more than 50 mosques giving away thousands of bottles of Halal Vitamins to promote a halal and healthy lifestyle.
About NoorVitamins™
Launched May 2011, NoorVitamins™ a division of Noor Pharmaceuticals, specializes in developing high quality halal vitamins and dietary supplements for the health-conscious Muslim consumer. Noor Pharmaceuticals was founded by Muslim physicians and pharmacists, who experienced first-hand the need for halal vitamins and nutritional supplements.
Visit NoorVitamins at http://www.NoorVitamins.com and become a facebook fan at http://www.facebook.com/NoorVitamins today.