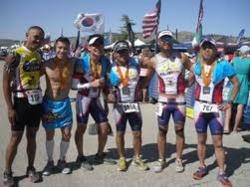 Tri-California brings a strong message to its athletes that transcends sport. Their philosophy of 'exercise with a purpose' ties in perfectly with the advantages of the TriDot System
Dallas, TX (PRWEB) July 20, 2012
TriDot announced a partnership with Tri-California to offer TriDot training programs and coaching to Tri-California event participants. Tri-California is a race production company whose goal is to motivate individuals of all ages and fitness levels towards a healthier lifestyle by providing training and racing opportunities in the sport of triathlon. TriDot provides triathlon training programs that allow athletes to maximize their race results through TriDot's patents-pending technology-based training system. TriDot and Tri-California both focus on helping athletes train with a purpose.
"We are excited to work with Tri-California athletes in reaching their overall fitness goals," says TriDot founder Jeff Booher, "Tri-California brings a strong message to its athletes that transcends sport. Their philosophy of 'exercise with a purpose' ties in perfectly with the advantages of the TriDot System, which allows athletes to maximize their results with efficient triathlon training plans where every workout is designed with a specific purpose based on a database of actual athlete training data and results. The TriDot System is designed to serve those who want reliable results, but also want balance in their lives that comes from training for triathlons more efficiently."
Tri-California aims to engage the everyday athlete by encouraging individuals to "exercise with purpose" and take part in a triathlon event. Both on and off the race course, Tri-California strives to create a supportive and encouraging racing environment, keeping the participant and spectator experience at the forefront. Tri-California believes in creating partnerships, and providing training resources that enable participants to connect with others, pursue fitness goals and experience those "life changing moments" in the process.
Founded in 1994, Tri-California is a production company for triathlons, marathons, and multi-sport events. The events include the AVIA Wildflower Triathlons Festival which was first produced by Terry Davis in 1983 while working for the Monterey County Parks Department. Other events include , The Triathlon at Pacific Grove, Scott Tinley's Adventure Triathlons, and the Orca Alcatraz Challenge Swim and Aquathlon. Tri-California also race directs the Nike Women's Marathon and the Giant Race, both in San Francisco.
The TriDot System is a one-of-a-kind, patents-pending triathlon training and racing system developed based on extensive and ongoing primary research since 2004. The TriDot System's Intelligent Design Process (IDP) is a data-driven process that produces optimized training programs built for each athlete that deliver maximum results per training hour invested (Result: more performance gains and/or less training time). Serving beginners to professionals, the TriDot System takes the guesswork out of triathlon training and racing.
This Press release was created and distributed on behalf of TriDot by Prism Communications Inc. Prism Communications is a full service internet marketing company that cuts through the myriad of internet marketing tactics and develops a coherent strategy for companies looking to grow their online presence. To learn more about Prism Communications, or to contact them for a free consultation for internet marketing solutions, email them at sam(at)prism-communications(dot)com or call them at 917.319.2229.