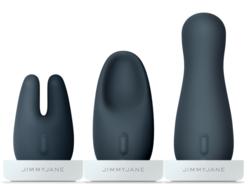 These novels are accelerating the progress of vibrators and other accessories into the mainstream, and are igniting imaginations around the world.
San Francisco, CA (PRWEB) July 23, 2012
Jimmyjane (http://www.jimmyjane.com), the design-centric brand and leading innovator in the vibrator market, is part of a trend of pleasure product companies seeing a spike in sales and consumer interest due to the popularity of the adult novel, Fifty Shades of Grey. In addition to record sales (Fab.com recently revealed that their best selling item is a Jimmyjane vibrator), retailers of sex accessories are noticing a substantial shift in consumer attitude in which more discerning customers are emerging, seeking high quality, well-designed products.
Jimmyjane has seen a spike in sales across their full product range, and in particular in their best-selling line of FORM Waterproof Rechargeable Vibrators. Unlike prior generations of sex accessories, FORM Vibrators exceed the high standards of quality, function and aesthetics that these more discerning customers routinely apply to the other products in their daily lives.
"While conversation around female sexuality and pleasure has rapidly picked up steam over the past decade, the popularity of Fifty Shades has caused it to boil over in an amazing way. These novels are accelerating the progress of vibrators and other accessories into the mainstream, and are igniting imaginations around the world," says Ethan Imboden, founder and Chief Creative of Jimmyjane. Imboden has worked to break down the taboo around female sexual pleasure and pleasure products since he launched his brand in 2004.
The three most recent Jimmyjane vibrator launches were a design collaboration between Imboden and Yves Behar, noted industrial designer and founder of Fuseproject. Behar, whose projects range from One Laptop Per Child and the Herman Miller Leaf Lamp to the Jawbone Jambox, believes "The more that consumers know about the pleasure products that are available to them, the more they're empowered to make educated choices about design, quality and efficacy. From the numbers we're seeing, Fifty Shades of Grey seems to be providing quite an education."
At Jimmyjane, the conventional wisdom is that this is just the beginning of the sex toys' movement into the mainstream dialogue. In recent months there has been a wave of exposure, from the film Hysteria (about the invention of the vibrator), to product features on shows such as Bethany Frankel, the Real Housewives of Orange County, and even Oprah.
About Jimmyjane
Jimmyjane is a design-centric brand founded on the belief that life is better with a sexy twist. We design products and experiences to provide pleasure, strengthen connection, and create provocative possibility. From decadent massage candles and natural massage lotions to luxurious blindfolds and the iconic 24k gold vibrator, if you enjoy being sexy, we have something for you. Jimmyjane has been honored with numerous design awards, and new concepts are continually in development to bring sophisticated sexiness to all. For more information, visit http://www.JIMMYJANE.COM.
ABOUT YVES BEHAR/FUSEPROJECT
Founded in 1999 by Swiss-born visionary Yves Béhar, fuseproject is committed to projects that utilize technological innovation and design to improve people's day-to-day lives, promote sustainable living, and create positive social change. The fuseproject dream is for all consumers to be aware of the environmental and social impact of materials and packaging, and to buy according to humanitarian, ethical, and environmental loyalties. http://www.fuseproject.com