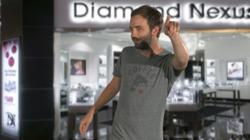 I just want to get freak nasty with the beat!
Milwaukee, WI (PRWEB) July 20, 2012
There comes a time in human history when a line must be drawn. Two opposing forces, both great in their own right, must eventually meet head to head to determine who shall call themselves the victor and who shall return home steeped in failure.
Such a line has been drawn between Diamond Nexus and Google. On one side is the leading online jewelry retailer Diamond Nexus. Their marketing team is stacked with young, attractive and funny employees that seem destined to spend their every waking hour on a dance floor. On the other side is the ubiquitous Google. Although their account team has been great in helping Diamond Nexus take their search efforts to the next level, the team consists of men and women that look far more confortable at a Dungeons and Dragons convention than a dance floor.
"If there is one thing that I've staked my career on, it's that these hips don't lie!" explained Diamond Nexus' Director of Marketing, Kyle Blades, as he points to his own hips. "When I first met Shawn [Johnson] from our account team I knew immediately that his hips do indeed lie." It was at that point that Mr. Blades knew he must call upon his team to throw down the gauntlet and challenge Google to a Dance-off.
Diamond Nexus' own search coordinator, Jay Ratkowski, was immediately on board with the challenge. "I've met a lot of marketing professionals in my day and there is a certain level of professionalism you come to expect. If you can't get funky with the beat then I don't think you belong in the field!" Although solid dancing moves are standard in the marketing field, Diamond Nexus took things to a new level with their recent inter-company dance off. Found at diamondnexus.com/dance-off the video sets a high bar for Google to overcome.
The stage has now been set for Diamond Nexus to take on their Google account team as the team visits the jeweler's headquarters in early August. "We hereby officially challenge our Google account team to a dance-off upon their onsite visit in August!" declared Mr. Blades. "Should they decline our challenge, they will be met with humiliation and shame. Should they accept, they will face certain defeat."
"I just want to get freak nasty with the beat!" Mr. Ratkowski chimed in. "If Google thinks they can compete with that, they have another thing coming!" Will Google accept the great dance-off challenge? Only time will tell!