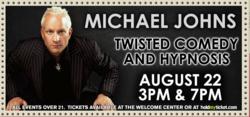 "I think inside everybody there's this person that wants to be in front of people and just wants to cut loose. I think that's what hypnosis gives you," said Michael Johns
Santa Fe, New Mexico (PRWEB) July 19, 2012
Showcase entertainer Michael Johns is making his way to the San Felipe Casino Hollywood's Celebrity Showroom for two shows. The shows are set for 3 p.m. and 7 p.m., Wednesday, August 22, 2012. Tickets to the show are on sale inside the San Felipe Casino Hollywood and at http://www.holdmytickets.com. The seats to both shows are general admission and this is a 21 years and older event. The casino is glad to announce that patrons to shows are now able to enjoy their favorite drink while enjoying the entertainment. Casino Hollywood is a featured business on Hutton Broadcasting radio stations. Hutton Broadcasting is the parent company of SantaFe.com
Michael Johns 'Twisted Comedy Hypnosis': When standing in front of a room full of strangers you probably wouldn't act out your audition for a role in an adult film, but at a live hypnosis show, behavior like this can make you a star. Hypnosis shows are the only ones in town that encourage audience members to lose their inhibitions on stage. What better place to do this than at San Felipe's Casino Hollywood?
"I think inside everybody there's this person that wants to be in front of people and just wants to cut loose. I think that's what hypnosis gives you," said Michael Johns, a comedian and hypnotist who co-hosts "Hypnosis Unleashed" at the Tropicana with Terry Stokes. "It gives you the opportunity to be a part of the show and get up there and have a little fun. It gives you a license to do goofy things that you probably would not have done before."
Michael Johns began his comedy career long before he realized he could actually be paid for it. Always the class clown, Michael's antics (read: poor behavior) kept his instructors on their toes and kept him in the principal's office.
Growing up in the Midwest, Michael had many opportunities to pick up new material. From his typically dysfunctional family to his pickup driving, hillbilly friends — the act practically wrote itself.
After leaving high school, Michael joined the U.S. Army, where he served in several units including the 101st Airborne at Fort Campbell, Ky., and The United Nations Command Honor Guard in Seoul, Korea.
While Michael was performing as a standup comedian, he volunteered for a hypnosis show and woke up two hours later with his pants around his ankles and abusing a chair. From that point on, he added his comedic skills to hypnosis to entertain audiences. Michael has performed his comedic hypnosis shows nationally and internationally at places such as Sturgis, cruise ships, casinos, colleges and Las Vegas In 2004, started his comedy hypnosis show at Bourbon Street Hotel & Casino, which was the start of a successful run in Las Vegas that has included shows at the Empire Ballroom, House of Blues at Mandalay Bay Resort, the Stardust Hotel & Casino and the Tropicana before landing at the Harmon Theater at Planet Hollywood Resort, where he performs nightly.
Michael travels the world as a motivational speaker and entertainer for corporate events, colleges and more. He has a soft spot in his heart for dogs, and spends much of his free time rescuing pooches from kill shelters through Bound Angels and Pet Connect Us, including his lovable pal Bongo, a Jack Russell terrier.
Tickets to the show are on sale at San Felipe Casino Hollywood and at HoldMyTickets.com. All seats are General Admission and you must be 21 years or older to attend the show.
About San Felipe Pueblo Enterprises:
San Felipe Casino Hollywood

Over 600 slot machines
1000 seat Celebrity Showroom with full bar
Gift Shop featuring Pendleton items and local Native American Artwork
Buffet and The Grill
The Bar – full bar
12,000 seat Speedway
RV Hook-ups
San Felipe Travel Center & Pueblo Restaurant 505-867-4706

Truck Stop and showers
Discount Smoke Shop
Slot Stop
San Felipe Casino Hollywood
I-25, Exit 252
25 Hagon Road Algodones, NM 87001.
(505) 867-6700
Questions regarding this press release or to schedule interviews please contact Daisy Candelaria at (505) 771-5835
About SantaFe.com:
SantaFe.com provides locals and visitors to Santa Fe alike the most current interactive platform for events, music, arts, business, dining and lifestyle. SantaFe.com is a division of Hutton Broadcasting, located at 2502 C. Camino Entrada, Santa Fe, NM 87507
Contact Information:
Scott Hutton
SantaFe.com / Hutton Broadcasting
http://www.santafe.com
(505) 471-1067 (Media inquiries only, please)