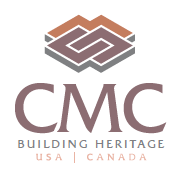 CMC's new logo mark is solid, uncluttered and remarkable.
Portland, Oregon (PRWEB) July 23, 2012
Carrier Mausoleums Construction, Inc. (CMC), a Montréal based manufacturer of Glass Front Niches, Interior and Exterior Columbaria, provider of premier bronze accessories for crypts and niches, and the funeral industry's leading design-build construction company for mausoleums and stand-alone columbarium buildings, is announcing that it has developed a new, updated logo and many other brand identity enhancements.
During the last several years, CMC has grown significantly in size and product line depth resulting in a much broader product portfolio. In efforts to provide a more modern representation of the company and their plans for the future, CMC hired boutique branding firm Oblique Design as their agency-of-record. Oblique's mission is simple, to serve as an extension of CMC's marketing department and creatively increase recognition of the 'CMC' name throughout the United States.
"As CMC grows, some modifications are necessary to help differentiate our evolving brand and premier name for our customers. We are pleased to present our new CMC logo, which will clearly identify our brand and embody the spirit of our company," commented Joshua P. Lintz, Senior Director of Marketing and Strategic Development at CMC. "Oblique's thoughtful design brings a fresh and modern feel in a logo mark that is solid, uncluttered and remarkable."
This redesign allows Carrier Mausoleums Construction, Inc. to build on the widely used acronym of the company's name (CMC) while reinforcing their position in the marketplace as the undisputed leader in columbaria, mausoleums and bronze accessories. Lintz commented, "There are four critical components to our new logo: 1.) A clean, dimensional and modern representation of our namesake and legacy, 2.) The widely used acronym 'CMC,' 3.) Promoting our expanded presence and superior service throughout the United States and Canada, and 4.) The inclusion of our value-oriented Slogan."
To coordinate with the release of the new corporate logo, CMC's URL and Slogan were also changed. Moving forward CMC can be found at http://www.CMC-Carrier.com. While sometimes its perilous to change a company's URL, CMC management felt it was time to simplify and modernize. These changes, among many more to come, represent CMC's solid foundation and heritage of building better buildings. CMC's slogan "Building Heritage" embodies their legacy, service mantra and company promise. "Across all of our products and services, CMC doesn't just build better buildings, fabricate Glass Front Niches or sell bronze accessories, we're in the business of building heritage with everything that we do," added Lintz.
To learn more about CMC's innovative services and products, please visit their website at: http://www.cmc-carrier.com.