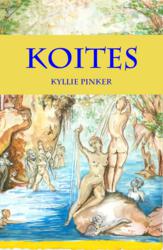 The author has written a highly imaginative, comedic story about sex. It is a satire of pornography and intimacy, poking fun at men and women alike. (Historical Novel Review)
Chula Vista, CA (PRWEB) July 24, 2012
Mirella Patzer, writer at Historical Novel Review as well as History and Women, gave a positive review of Kyllie Pinker's new novella last week.
Patzer wrote: "If you enjoy light-hearted stories with a touch of humor and satire, then Koites: An Ancient Myth About How Sex Relationships Came To Be (ISBN: 978-0983509998, Copyright 2012) will provide you hours of entertaining fun. The author sweeps us into a fable about a place named Licentia and a time long ago where desirable women sported bushy legs and hairy arm pits and men shaved themselves hairless clean-shaven; where coupling rituals were strictly controlled and women had the power to chose a mate best suited.
"Diana is a young woman being primed for her mating ritual. Much to everyone's chagrin, she chooses Actaeon, a seafarer much disliked by the town folk. The fact that he bends the rules of the Barzexton mating ritual where the males present themselves to Diana to choose from, causes trouble and the entire village tries to keep the couple apart.
"The author has written a highly imaginative, comedic story about sex. It is a satire of pornography and intimacy, poking fun at men and women alike. The book itself is not lengthy and makes for a fast read. The prose is very rich and colorful, adding to the elegance of this little fable. Sexy, informative, funny, and delightful, there is much to enjoy in this tiny book that packs a big punch!"
Kyllie Pinker is a writer at California Notebook as well as other print and on-line outlets. She is also a life-long lover of mythology and the classics. This is her first work of fiction.
Company Information: Merchant's Press is a boutique publishing company dedicated to high quality literature that defies genre classification, pushes the limits of socially acceptable themes, and releases unconventional writing forms.