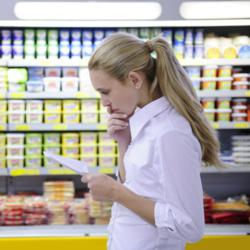 47% of shoppers have a grocery budget in mind when they go to the store
Minneapolis, MN (PRWEB) July 20, 2012
ClickIQ surveyed 702 consumers in a five-state area who had shopped at Walmart or Publix within the past month and indicated that one of those two retailers is where they shopped most often for their groceries and household goods. In addition to questioning respondents about the Walmart Challenge, the study also asked about purchasing behaviors concerning budgets, brand loyalty, private label products, and price.
The study showed that 47% of shoppers have a grocery budget in mind when they go to the store but they might buy an item they hadn't planned to purchase because it was on sale, a good value or something new they wanted to try. 35% of grocery shoppers create a shopping list before they go to the store so that they do not forget an item but they will also buy whatever else they want when they are at the store. 10% do not create a grocery list but will look for meal ideas while at the store and 7% indicated they had a limited budget and added up the cost of items as they went into their cart or they had a strict budget and stuck to their prepared list.
Shoppers were asked about their purchasing decisions when it came to national brands, private label/store brands and pricing. The survey presented a scenario where a grocery item was available from at least two national brands and a private label/store brand and everything about the item was equal other than price. Respondents were then asked which item they would purchase. Maybe indicative of rising acceptance of private label/store brands in the eyes of consumers or a sign of the present state of the US economy, but a full 43% said they would purchase the item that was priced the lowest, whatever the brand. 26% indicated they would purchase whichever national brand had the lowest price while 21% would select the national brand they always purchase, regardless of price. Garnering brand loyalty itself, 10% said they would purchase the private label/store brand they always purchase.
To gain a deeper understanding of the consumer's purchasing decisions, the study asked about packaging size/quantity and how the price per unit played in their decision. Respondents were asked which size they would purchase when told that the item came in three sizes and that the smallest size met their needs and the larger two items were re-sealable. Half of the respondents (50%) said they would check the price per unit and buy whichever is lowest, even if the total price was higher while 10% said they would purchase the item with the lowest price even if the price per unit was higher.
When respondents were asked the number one reason they shopped at Walmart, 51% indicated everyday low prices. When asked for the number one reason respondents shop at Publix, the answer was less clear cut. 22% said it was for the high quality of Publix's fresh items such as produce, meat, bakery, and deli and 21% said it was because of convenient location.
Methodology
Data was collected in an online survey from 702 of ClickIQ's US consumer panel members who had shopped at Walmart or Publix for their grocery and household goods needs within the past month and indicated that one of those two retailers is where they shopped most often. The study went out to residents living in Florida, Georgia, Alabama, South Carolina and Tennessee, states where both Walmart and Publix have stores, from June 27, 2012 through June 29, 2012. The survey results have margin of error of +/-3.8% at a 95% confidence level.
About ClickIQ
ClickIQ, Inc., based in Minneapolis, Minnesota, is an award-winning market research firm that employs fully integrated online management tools, a proprietary consumer panel, and skilled market research analysts to deliver quantitative consumer and shopper insights to some of the best known and most respected companies across the U.S.