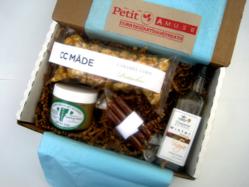 San Francisco, CA (PRWEB) July 23, 2012
Petit Amuse is a new online store that promotes sales of gourmet snacks from artisan food producers through a monthly tasting box. The company name is based on the French term, amuse bouche, which refers to an off-menu one-bite appetizer specially prepared by the chef. Similar to how an amuse bouche excites the palate, Petit Amuse aims to surprise and captivate its audience with new and crave-worthy treats. All products are hand-picked based on taste and company values.
Although Petit Amuse offers a monthly sample box subscription service, the similarities with Foodzie end there. Compared to Foodzie's almost $30/month box, Petit Amuse is offering its monthly subscription box, which includes 3-4 deluxe samples, for only $10.
Further, customers who are interested in buying full sized products will find that Petit Amuse is a one stop shop. Instead of having to buy large quantities and pay shipping for each individual company at Foodzie, Petit Amuse customers can purchase a variety of products at any quantity on the website for $7.99 flat rate shipping.
Most importantly, Petit Amuse strives to create a real connection between the producers and consumers through in-depth producer videos and Q&As specifically created for Petit Amuse. It is this connection that will help support small producers and sustain artisan food production.
For more information on Petit Amuse, please visit http://www.petitamuse.com.
Petit Amuse was founded by Ben Appenzeller (CEO) and Rosemary Ku, both graduates of Columbia Business School and long-time supporters of the independent food industry.