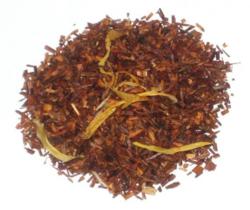 Slightly sweet and fruity flavor…If you want a caffeine-free herbal beverage" -- Dr. Andrew Weil
(PRWEB) July 24, 2012
Tolga and Nesrin Balli the owners of Cafe Om West Hollywood mistakenly ordered a large bag of Rooibos tea and discovered a wealth of Anti Oxidants to serve up to their health conscious customers.
Rooibos "red bush" is a naturally caffeine-free herbal plant that grows only in South Africa, in the mountains and valleys of the Cedarberg region near Cape Town.
Rooibos tea goes through a fermentation process. It is first finely chopped, bruised and left to ferment in heaps then left to dry in the African sun, where it changes from a vivid green to a deep mahogany red, the unique color which tea is known and adored and served in Cafe Om a West Hollywood coffee shop.
Rooibos remained virtually unheard of for centuries, known only to the Khoisans, a tribe of South African Bushmen. It was used frequently by these people as an herbal remedy for a wide range of ailments. The secret of this delicious herb nearly vanished into oblivion due to the environment and landscape, as the isolated tribe dwindled away and eventually disappeared.
Luckily, Rooibos was re-discovered in 1772 by botanist Carl Humberg, who then brought it back as a beverage. For generations, Rooibos was enjoyed (primarily by the South Africans) for it's cool, sweet, refreshing flavor. Now it arrived to West Hollywood coffee shop Cafe Om.
Rooibos is becoming more popular in Western countries, particularly among health-conscious consumers (like most visitors to Cafe Om), due to its high level of antioxidants such as aspalathin and nothofagin, its lack of caffeine and its low tannin levels compared to fully oxidized black tea or unoxidized green tea leaves. It is purported to assist with nervous tension, allergies and digestive problems.
Rooibos tea has expanded from a small herb indigenous to a select region of South Africa, known only to a small group of tribesman, into one of the most consumed and well-known herbs in the world. The wonderful flavor and startling versatility make Rooibos worth the praise it has received, a mainstay for the converted and a must-try for the not-yet enlightened.
Visit Cafe Om today to get your delicious red latte, espresso or tea.
Cafe Om is located in West Hollywood, Los Angeles, California
Tolga and Nesrin Balli
Tel: (323) 656 8553
Address: 7962 Fountain Avenue
West Hollywood, CA 90046
For more information visit, http://cafeomweho.com/