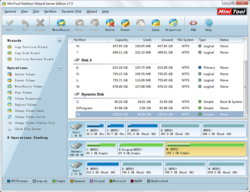 MiniTool Partition Wizard new feature - Advanced Format can boosts your disk efficiency by 5-13%
Vancouver, British Columbia, Canada (PRWEB) July 23, 2012
MiniTool Solution Ltd released partition magic software - MiniTool Partition Wizard 7.5. This new version includes new features and bug fix. One new feature is the Advanced Format.
Advanced Format is a generic term pertaining to any sector format used to store data on the magnetic disks in hard disk drives that exceeds 512 to 520 bytes per sector. Advanced Format is also considered a milestone technology in the history of hard-drive storage, where data has been processed in 512-byte increments. With full support of Advanced Format, MiniTool Partition Wizard user can take advantage of this new technology and improve disk performance by 5-13%.
Best of all, advanced format is added to Minitool Partition Wizard as a free feature. Home users can download MiniTool partition manager application from http://www.PartitionWizard.com without any cost.
With an intuitive software user interface, MiniTool Solution Ltd brought this advanced disk management feature to general public users. Download it today and manage disk partition like an expert by using MiniTool Partition Wizard.
About MiniTool Solution Ltd.:
MiniTool is a software company dedicated to data recovery software and disk management software development. Today, MiniTool continues to lead the industry in innovation with its award-winning Partition Wizard application and Power Data Recovery application. For more information about MiniTool and Partition Wizard 7.5, please visit http://www.partitionwizard.com.