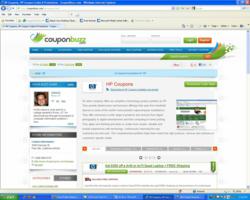 The ability to use a desktop PC like a tablet while maintaining its computing capacity is a fascinating innovation.
Houston, TX (PRWEB) July 20, 2012
A brand new HP coupon code was featured today on CouponBuzz.com that scores consumers an impressive $650 dollars in savings with their purchase of a HP TouchSmart 620-1170 3D Desktop PC. A coupon code that can save online shoppers slightly more than one third off the standard retail price for this state-of-the-art computer is attracting a great deal of consumer attention. These massive savings are a combination of $400 instant savings plus an additional $250 gained by clicking on the link to this popular HP coupon code, currently highlighted near the top of the HP-specific coupon section of CouponBuzz.com.
"HP TouchSmart technology is absolutely amazing," enthused Justin Bowen, one of the senior directors at CouponBuzz.com. "The ability to use a desktop PC like a tablet while maintaining its computing capacity is a fascinating innovation. Saving $650 bucks on a machine like this one is the kind of serious deal we love to feature on CouponBuzz.com."
Interested shoppers can read more about how to utilize this HP coupon in CouponBuzz.com's HP section, as well as discover the specifics on how to utilize the coupon and what exclusions, if any, apply. The HP TouchSmart 620-1170 is a 3D Desktop PC that utilizes cutting edge technology to create a computing experience unlike any other most users have previously experienced. As might be intuited from its name, the HP TouchSmart PC utilizes a touch screen display panel on its monitor, enabling keyboardless, mouse-less computing should the user so desire.
With the simple touch interface of a tablet, the HP TouchSmart 620-1170 combines touch screen technology with the intense computing power of a desktop, with a 1.5 TB SATA hard drive, 8 GB of DDR3 memory, and an Intel Core i5 Processor. The TouchSmart display is uniquely adjustable to optimize its performance for every use, with a forward tilt of 5 degrees for glare reduction and reclining as far back as 60 degrees to allow more comfortable touch computing.
The HP TouchSmart 620-1170 3D Desktop PC features a 23 inch screen that brings social networking sites, photo-sharing, digital editing and the multitude of other uses for a high-powered desktop PC to life in brilliant clarity and detail – that can be touched. And the 3D part of its name is an important 2 letter indicator not to miss. DDD TriDef 3D software and an AMD Radeon HD 6670A discrete graphics processor enable a host of fabulous 3D gaming possibilities. HP 3D cinema technology and 3D glasses, standard with the TouchSmart 620-1170 3D model, enable 3D DVDs and Blu-rays to bring the complete theatrical experience into every consumer's home. For full specifications on the TouchSmart 620-1170 and to access today's featured HP coupon for $650 off, follow this link http://couponbuzz.com/hp-coupons.html.