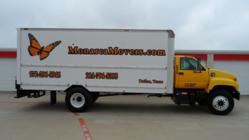 Monarca Movers is an exceptional Dallas moving company that offers an excellent service for all your local, commercial, and residential relocation needs.
Dallas, Texas (PRWEB) July 20, 2012
Texas is once again the number one state for business, reveals the latest survey by the Consumer News and Business Channel (CNBC). Data from CNBC's sixth annual study shows the Lone Star State in first place, beating 49 other states and long-time rival Virginia for the third time. The study's rankings are based on tallied scores in ten categories including transportation and infrastructure, workforce, quality of life, and education, to name a few.
The state's healthy climate for business has led to numerous company relocations to the area. Major establishments such as California staple In-N-Out Burger, oil drilling services provider Basic Energy Services, and medical supply company Greatbatch Inc. are just a few of the firms that have chosen to move headquarters to business-friendly Texas. Representatives from Monarca Movers & Deliveries believe that these corporate relocations will bring more opportunities for business and employment, and that the state may soon welcome more residential and commercial migrants who are planning to take advantage of Texas' positive economic environment. Dallas movers are now making preparations for the population influx, with Monarca Movers staying ahead of the pack by offering training camps to new employees to ensure that the company's services remain the best in the area.
Dallas-based moving company Monarca Movers & Deliveries offers various relocation services, from helping residential movers transfer homes to providing assistance for relocating commercial entities. The company also goes beyond transferring shipments by offering services such as loading and unloading, packing and unpacking, and even temporary storage. The company operates mainly within the Dallas-Fort Worth Area but also caters to movers in nearby cities such as Addison, Cedar Hill, and Highland park, to name a few. Company representatives proudly assert the company's excellence in the field of relocation:
"Monarca Movers is an exceptional Dallas moving company that offers an excellent service for all your local, commercial, and residential relocation needs. Unlike many other moving companies in Dallas, we are informed in the art of packing. Our professional staff is trained in the cumbersome task since it is the key to preventing damage to personal belongings," states speakers from Monarca Movers.
The company's efforts in providing exceptional service involve giving mandatory one-week training for new personnel. The training camp involves sending recruits into the work field to assist highly experienced drivers. While on the field, new employees are guided in all aspects of the job and then evaluated once the training week is over. Assessment covers all the necessary skills for the job, from packing, loading, and unloading skills, to customer approach and overall appearance.
Representatives from Monarca Movers state that such training is required of new movers not only to keep the company ahead of other Dallas moving companies, but also to ensure high-quality service tailored to customers' needs:
"We know how difficult it is to move and deal with all the chaos that is involved — that is why we want to help. Monarca Movers & Deliveries always puts the customer's needs as a first priority."
With greater progress predicted for the business-forward state of Texas, residential and commercial migrants can turn to Monarca Movers & Deliveries to make transitions much smoother.