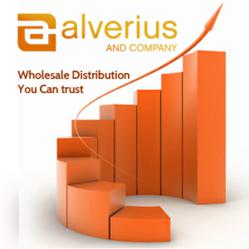 Once new businesses know they now have a legitimate wholesale distribution resource they can trust, we expect the message to take on a life of its own.said ACI Director of Digital Marketing Robert L. Brown
(PRWEB) July 24, 2012
Alverius and Company announced their aggressive marketing strategy following the successful launch of their website, alveriusandcompany.com. The wholesale distribution company's marketing campaign is taking a proactive approach to increasing their business to business exposure, hiring professionals and consultants at the top of their game. ACI is expanding their marketing efforts to match the growth of their company.
"When you have something incredible, you want to share it with as many people as possible," said ACI Executive Vice President Sebastian C. Alverius. "We are grateful to our customers for making us what we are today. We want to provide the chance for even more retailers to increase their profits and expand their business."
Alverius and Company is taking marketing seriously, launching a platform on Facebook, Twitter and other media outlets. "We expect to go viral, "said ACI Director of Digital Marketing Robert L. Brown. "Once new businesses know they now have a legitimate wholesale distribution resource they can trust, we expect the message to take on a life of its own."
ACI is excited about their new order verification system that allows customers 24 hour a day, 7 day a week access to the status of their orders. "We are gearing up for high volume, but we aren't losing sight of our customer's needs. We are going to continue to push the envelope, giving our retailers the tools they need at every step of the ordering process," Alverius said.
It is no surprise that their marketing strategy mirrors the bold stance the company has taken that has resulted in its steady growth since it's inception. "We are doing what works, for our business, and for our retailers. Now we want your business to know about us," Alverius said.
Retailers are taking advantage of the company's newly revamped website. "We couldn't be happier by the response we have gotten to alveriusandcompany.com. We want to take the wholesale distribution industry by storm and the website is the first step in doing just that," Alverius continued.
Up until now, the wholesale distribution industry has been mired by untrustworthy sources that often left retailers unsatisfied. "We want to make it perfectly clear that retailers now have a trustworthy choice in getting the products their customers demand," Alverius continued. ACI's marketing stance is that they want the world to take a look at what they are doing, and moreover, how they are doing it.
ACI's bold marketing strategy will be utilized for both of their subsidiaries, MobileNIQ and LifeSource Distributors. ACI is proving to be a wholesale distribution company we want to hear more about and they are using the aggressive marketing tools to make it happen. For further details go to http://www.alveriusandcompany.com.