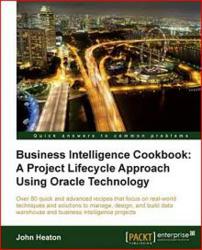 Learn to build the data model using Oracle SQL Data Modeller and the Oracle Database to build your logical and physical data model and OBIEE to build the presentation data model.
(PRWEB) July 21, 2012
Packt Publishing is pleased to announce Business Intelligence Cookbook: A Project Lifecycle Approach Using Oracle Technology, a new book and e-book which provides an effective approach for estimating the effort of a data warehouse solution based on a standard work breakdown structure.
About the Author:
John Heaton, has 10+ years with Oracle Corporation, including as a Practice Manager. He specializes as a Solution Architect and has also been co-managing the North Business Intelligence and Warehouse Consulting practice delivering business intelligence solutions to Fortune 500 clients.
Full of illustrations, diagrams, and tips with clear step-by-step instructions and real time examples, this book will help the reader perform important steps and functions on any project using business intelligence. Readers will be able to make use of the Oracle SQL Data Modeller and the Oracle Database to build a logical and physical data model.
Some of the principal chapters emphasized in this book are:
Table of Contents
Chapter 1: Defining a Program
Chapter 2: Establishing the Project
Chapter 3: Controlling the Project
Chapter 4: Wrapping Up the Project
Chapter 5: The Blueprint
Chapter 6: Analyzing the Requirements
Chapter 7: Architecture and Design
Chapter 8: Analyzing the Sources
Chapter 9: Analyzing the Data
Chapter 10: Constructing the Data Model
Chapter 11: Defining the ETL/ELT
Chapter 12: Enhancing the Data
Chapter 13: Optimizing the Access
Chapter 14: Security
Written in simple, easy to understand format this book will help the reader master key techniques and components which will help in visualizing and interrogating information effectively. The reader will be able to understand additional and advanced techniques to enhance ETL/ELT solution.
Packt Publishing has also released and is due to publish other titles:
1. Oracle BI Publisher 11g: A Practical Guide to Enterprise Reporting (Published 2011)
2. Oracle Service Bus 11g Development Cookbook (Published 2012)
3. Oracle ADF Real World Developer's Guide (Expected October 2012)
4. Oracle Enterprise Manager Cloud Control 12c: Managing Data Center Chaos (Expected September 2012)
All Oracle books are published by Packt Enterprise. Packt Enterprise is a publishing division of Packt Publishing created to serve the information needs of IT Professionals in the Enterprise space. Packt Enterprise also publishes on Microsoft, IBM, Oracle, Citrix, Java, Amazon, Google and SAP technologies.