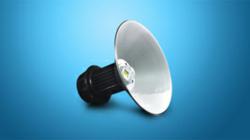 (PRWEB) July 22, 2012
As LED lights play an increasing role in the daily life these years and it will have a big influence in future.LED lights include LED tube lights, LED bulbs, LED spot lights, LED flood lights, LED bay lights, and LED panel lights and so on, which is widely use in workshops, factories, stories, toll stations, service stations supermarkets and other places. Therefore, more and more people build the awareness of using LED lamps, but the most significant thing is how to buy a LED bay lights?
Zhongtian Lighting gives some suggestions to help customers know more details about how to choose a LED bay light. At first, people usually should buy LED bay lights in bulk so that it enables the manufacturers to give the lowest price. If someone thinks that it is not necessary to buy so much bay lights for one time, he can share the products with others or make it as the spare parts in future. In addition, if the customers buy it in bulk, the most important thing is to check the quality of the merchandise carefully first, so as to avoid the defective products. It is not only a great loss of money but also a waste of time and efforts. What's more, compare the performance and other factors of LED bay lights between different companies so as to ensure the products which customers buy are the best ones. Finally, there is no doubt that the cost is a crucial factor for customers buying merchandise and it is the most difficult factor to judge. Customers can deal with it by make a balance of the cost and quality. Customers should seek for the LED bay lights with high cost performance but not the cheapest products.
When buying LED bay lights, customers can pay more attention to these parameters----physical parameters, optical parameters, electrical parameters, which can demonstrate the details of a bay lights. Such as the rated power, service lifespan, output lumens, light source, color rendering index etc. The people who want to buy a LED bay light will benefit a lot from this.
"Zhongtian Lighting will provide more services to the customers and better its management system further," said Mr. Li, general manger of Zhongtian Lighting.