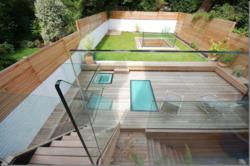 Aim is to achieve sustainable growth - not just a cute little makeovers .
New York (PRWEB) July 30, 2012
After years of continuous prototyping, the company released the 'Gorgeous is the New Green' luxury system. Tested in green residential, service and hospitality developments showed that the system meets high-end service standards, with 15% conversion rate to return on the initial investment.
The company designs from a complex system of factors which are analysed before any design concept is issued and which is based on geopolitical, environmental and economic use, to match the perfect need of the individual for which the design is created. This way the company develops tailored designs at fast rate where no idea is the same and every design is a true reflection of the inhabitant personality, knowing clearly where the design it is meeting with pleasure.
Now ICDS Arch, is the first company in the world to design sustainable interiors for high end use, at a cost which is lower than any other design professional and at the same time saving cash when buying products which are sustainable and provides a framework for ecological use, due to the R&D facilities and the 'Gorgeous is the new green' system within.
The company has clients in residential, service and hospitality which cover international locations for private and public use and it is pro-actively backing up green developments for governments and small businesses with the idea that green should govern any organisational plans in need for a brighter future.