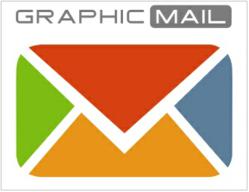 With GraphicMail's social sharing people will talk about your newsletter content, your offers and events on their social networks, and this can really accelerate your brand's growth
(PRWEB) July 25, 2012
GraphicMail, a leading hosted email marketing solution, today announced the release of a free social sharing widget (Beta) that allows clients to have their subscribers share newsletters and comment on them via the browser view. Additionally, this widget also offers social login for a direct newsletter mailing list sign up with a social account containing the user's email address. This is especially valuable when the entire browser version is shared via a copy-past of the URL, or via a "forward – to –friend" button inside the same widget. Viewers can even translate the entire email content into almost any language - all from one convenient interface in the viewer's browser.
Said Josh Baumrind, Director of Business Development at Janrain: "Our social login and sharing widgets can do a lot to help email marketers acquire more subscribers because of how easy it makes list growth and sharing newsletters to social networks and directly with friends. Comments placed by subscribers help marketers define their brand ambassadors, or key social influencers; which gives you valuable clues on how to improve on messaging and drive campaign virality."
"Janrain is always excited to see partners build on its functionality in new and creative ways. GraphicMail is a great example with its ability to translate newsletters during sharing, helping you grow a multi-language clientele - be it across borders or within your own country," concluded Josh.
While most email marketing companies are focused on more nescient strategies for sharing to social, GraphicMail looks at social media marketing as more than just another messaging and customer collection channel - instead viewing it as an integral part of client engagement, interaction and list growth throughout all digital marketing communications.
GraphicMail's latest integration with Janrain acknowledges this and enables businesses to encourage consumer-to-consumer conversations in a very significant and measurable way.
"With GraphicMail's social sharing people will talk about your newsletter content, your offers and events on their social networks, and this can really accelerate your brand's growth and boost the amount of new sign-ups you get for your campaigns; within our application, GraphicMail calls Janrain's social sharing and commenting tool the 'browser widget', and our widget for social sharing is supported by other email-social features that we have recently brought to market, notably the Social Subscribe form." - said Barbara Ulmi, Head of Marketing at GraphicMail.
About GraphicMail
GraphicMail is a hosted email marketing solution which lets users design newsletters, manage contact lists and track campaign performance. The platform provides bulk email software that's easy and affordable enough for small businesses, yet powerful for large companies looking for a corporate-scale solution. GraphicMail offers mobile marketing services, such as bulk SMS / text campaigns and SMS sends with links to mobile sites that can be tracked and analyzed. They also offer social media integrations in the form of social sharing features and social data gathering tools. The company's email newsletter services has been used by customers such as, Shell, the American Medical Association and Dell Empower since 2002. The product is available in 11 languages and is represented by 20 offices globally.
About Janrain
Janrain helps organizations succeed on the social web with its user management platform, a solution to improve user acquisition, engagement and intelligence. With Janrain, you learn more about your users when they login or sign up with an existing identity on a social network such as Facebook, LinkedIn or Twitter. Then you can store that social profile data and use the information to launch more targeted campaigns or serve more relevant content. Additional components for sharing, invite friends, and gamification bring more users to your site and reward brand advocates. Janrain customers include leading brands such as Universal Music Group, MTV Networks, AMC Networks, Ning, Kodak, NPR, Sears and the Dr. Pepper/Snapple Group. Founded in 2005, Janrain is based in Portland, Oregon. For more information, please call 1-888-563-3082 or visit http://www.janrain.com.