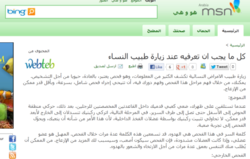 Amman, Jordan and Cairo, Egypt (PRWEB) July 22, 2012
WebTeb.com announced today a partnership with MSN Arabia, to include WebTeb.com articles on the MSN Arabia site. WebTeb.com is a platform that provides health information to Arabic speaking individuals and families, connecting them with health service providers, so they can control their own health, be informed and lead healthier lives.
Webteb.com contains high quality reference information, the first Arabic-language drug index, forums answered by medical doctors and, to be launched soon, an innovative "symptom checker" licensed from the Harvard medical school. Adapting to local health needs, WebTeb includes a large Ramadan section, containing medical and diet information that is meaningful to the millions of people fasting during the holy month.
"Arabic is one of the fastest growing languages on the Internet, yet high quality reference sites are still missing", said Dr. Mahmoud Kaiyal, WebTeb's Founder and CEO. "WebTeb's vision is to lead with high quality credible health information in Arabic that will be accessible, informative and locally relevant. We are proud to partner with MSN Arabia, since both companies share the vision of bringing high quality information to health-conscious Arabic speaking individuals".
"The health and wellness sector is enormous, so we are very pleased to have partnered with WebTeb, featuring their content on our Portal" added Sherif Dahan, Managing Director of MSN Middle East. "We believe that WebTeb's high quality information positions it to become the health site Arabic speakers trust".
WebTeb contains more than 20,000 articles and medical entries and strives to involve medical doctors in each of the local Arab markets to use the platform to connect with consumers. The site is free for users.
About WebTeb
WebTeb's goal is to provide Arabic-language comprehensive health and medical information so that its Arabic-speaking users can live better and healthier lives. We publish exclusive and high-quality evidence-based medical information and continuously update it. We are managed by a professional team that includes doctors, editors and programmers.
We strive to be the leading professional and reliable source of information for Arabic-speaking users and to provide a platform for their interaction with health practitioners, hospitals, doctors, dentists, pharmacies, pharmaceutical companies, insurance companies, therapists, and health education institutions. For more information visit http://www.webteb.com
About MSN Arabia
MSN Arabia is today the fastest growing Portal in the MENA Region. With localized Portals for KSA, Egypt, Maghreb, UAE and Pakistan, MSN Arabia offers a unique mix of local, regional and international content to more than 30 Million Users monthly. Through engaging content, videos, photo galleries and services, its user base is growing exponentially. Integrated with Windows Live Hotmail & WL Messenger, the network serves more than 80 Million Users in the region and exceeds 2 Billion Pages Views per month.
For more information visit http://www.arabia.msn.com
Follow MSN Arabia on Twitter at @MSNArabia
Find us on Facebook facebook.com/msnarabia