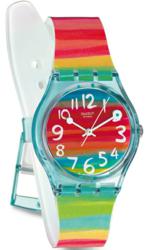 bright, colourful and summer themed watches from across a range of brands.
(PRWEB UK) 22 July 2012
With the warmer months upon us (apparently) and with the summer holidays now under way, the UK's largest watch website The Watch Hut has launched a Summer Holiday Watches Collection, containing bright, colourful and summer themed watches from across a range of brands.
The Summer Holiday Watches Collection contains men's and women's watches, across a varying range of styles, functions and prices. Prices start at £15 with some of the Casio watches going up to just over £100 with one of the D&G watches and the exclusive FMIF watches from Ice-Watch coming in between £80 and £90.
The FMIF collection, are the epitome of summer holiday watches, as they were inspired by the Ibiza club nights created by David and Cathy Guetta, under the watchful eye of Ice-Watch. They feature bright colourful designs and patterned dials, some of which even feature palm trees!
Some of the ladies watches that feature in the collection are from the Sekonda watches Party Time collection, which feature colourful straps and stone set bezels, offering a glamorous option. There are also several wrap around strap watches from Kahuna, which have a real surfer style to them that create a more casual look.
LED watches feature in the summer theme collection, which provides some of the most colourful watches available, with bright rubbers straps and cases in a wide range of colours, all featuring digital displays.
Many of the watches available are waterproof to some degree, meaning they are great for frolicking in the sea if you're heading away this summer, alternatively, the bright colours of the rest of the watches are great for adding a splash of colour to your outfit whether you are going away or just staying at home!
To check out the full Summer Holiday collection of watches, visit The Watch Hut, an official retailer of over 80 brands!