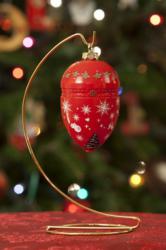 When I look at my Urnament, I am drawn to where the happy memories of my loved one reside.
Glen Rock, New Jersey (PRWEB) July 24, 2012
Urnaments LLC has created a special keepsake urn called Christmas Memories for patrons who want to commemorate the memory of their loved ones and pets during the holidays.
"Christmas Memories was actually our very first design," says Michael Martino, Founder & President of Urnaments LLC. "We had reservations about introducing it separately when Urnaments and Pet Urnaments first launched in May. Our PR people said that it might be assumed as our signature product and misrepresent our brand in a way other than what we intended."
There is a logic to this. All Urnaments and Pet Urnaments look like traditional holiday ornaments and are specially designed so they can be adorned on a Christmas Tree. If the First Edition Collection of seven very distinct designs were represented by Christmas Memories, the assumption might that the product was solely a "seasonal" one.
This is why Urnaments' graphic artists at Miles Technologies were instructed to make no more than one design with a holiday theme.
"On our website and brochure we go to great pains to showcase pictures of Urnaments and Pet Urnaments in settings all around the home, or office for that matter," continued Mr. Martino. "Still, we have a distinct demographic who also love them for the holidays. Our "Christmas In July" campaign is our way of searching out more people who fall within that sales margin."
Urnaments LLC was founded by Michael C. Martino in 2010. All engineering / prototyping / designing of the Urnament was completed in November, 2011. Urnaments were designed for the growing market of people seeking to commemorate their departed loved ones and pets in a more heart warming and expressive way. By matching their decorative appeal with an eyelet at the top, Urnaments can displayed on a Christmas tree or anywhere else in the home