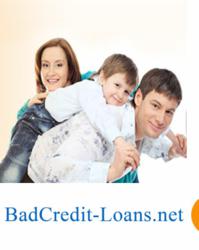 Badcredit-loans.net, the new online bad credit loans comparing service that allow you to get a fast loan with any credit in minutes
(PRWEB) July 22, 2012
Badcredit-loans.net, the new online bad credit loans comparing service that allow you to get a fast loan with any credit in minutes, has shared an FAQ sheet to make clear some frequently confused terminology concerning bad and no credit.
The platform recently announced its new online loan application form and introduced its fast system of bringing together borrowers and lenders for immediate answers on loan applications. The company now announces a new FAQ sheet entitled "Bad Credit vs. Poor Credit."
A spokesperson for Badcredit-loans.net shared some details about the most recent information disseminated by the service.
"One of the most important lessons that any discerning credit consumer can learn is the difference between some of the terminology that abounds within the industry. It can be confusing even for those of us who deal with these terms each day! The internet is a huge resource, full of information ranging in quality and accuracy. Not all information is correct and not all of it pertains to our base of clientele, U.S. resident borrowers. In order to make sure that the users of the Badcredit-loans.net loan matching service are in the know, we decided to produce a new tip sheet. The one we share today discusses the very important distinction to be made between customers with "bad" versus "no" credit."
The spokesperson concluded, "For the purposes of the network of lenders that review loan applications instantly on our website, there is no technical difference as all applications are treated on a "credit check blind" basis – no one is credit checked! However, we would like to remind borrowers that not all loan comparison services are the same and neither are all lenders. Knowing how potential lenders view you is an important step in the search for borrowing. With this in mind, we invite customers to digest the information within the new FAQ sheet and use it when approaching bad credit personal loan websites."
Badcredit-loans.net's new FAQ sheet includes the following questions and answers:
Q- What does it mean to be classed as having credit that is "bad"? How will this affect me?
A – Most loan comparison sites and lenders use a points scoring system to decide if they will lend money to an applicant and, if so, at what rate. Unfortunately, it often means many applicants are declined borrowing. Applications through Badcredit-loans.net and its partner lenders will never undergo credit scoring nor will borrowers be discriminated against because of past financial difficulties.
Q –What does "no credit borrower" mean?
A - The borrower who is classed as having "no credit" is one that has a "blank page" as a credit file. Perhaps one who is a new U.S. citizen, one is has just reached 18 or that has never borrowed before. Unfortunately, traditional lending institutions use the same system of scoring for these borrowers who usually do not pass. A poor credit loan with no credit check is a good option to help such borrowers build their credit. This form of lending is available from Bad Credit Loans with the possibility of instant approval and payout.
Apply for fast lending through the brief online application at http://www.badcredit-loans.net