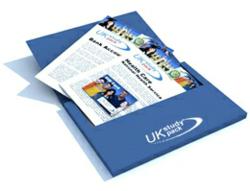 "Our aim is to help students move here with the minimum of stress and offer them a complete range of products and services from reputable companies" says Beverley Nash
London (PRWEB UK) 22 July 2012
Unipacks, a leading name in providing quality home items for people coming to live in UK accommodation, has partnered with UK Work Study, a leader in aiding international students and workers move to the UK.
The partnership has developed due to the increasing number of students coming into the UK from China; Unipacks has already established strong ties in China by having local websites translated and hosted and staff working directly for Unipacks in China.
UK Work Study supply a unique student and worker starter pack. The 'UK Study Pack' and 'UK Work Pack' includes a guide and application forms for opening a UK bank account before arrival, pre-paid MasterCard cash card, free international money transfer, a UK telephone number, comprehensive guides to Living and Studying or Working in the UK, travel essentials, National Insurance assistance and a number of other discounted items. UK Work Study also partner with companies in other key areas such as visa assistance and application, accommodation, shipping, insurance, hotels and travel and university advice for students - providing discount with these partners and making great money saving opportunities for their customers. All of these areas can be difficult for a foreign visitor to organise before arrival, and both the stress and the time involved is reduced.
"We know that once a student has made the decision to come to the UK, they want to get their new life organised as soon as possible - and getting their accommodation and furnishing it is a major task for them "says Stephen Salmond, Director of Unipacks. "Our goal is to provide quality items at low prices for anyone who is coming into accommodation in the UK. "
Unipacks is a Birmingham based company who offers Starter Kits for students already pre-packaged for the kitchen, bedroom and study. Prices range from £0.99 to £92.99, and there is a 24 hour support line "We have extensive knowledge of China, with Chinese employees and a direct presence in China" says Stephen Salmond. "This gives us an edge over our competitors. But we are now expanding into new territories, and by partnering with UK Work Study we are confident that we are offering our customers an additional service that removes a lot of the stress there is in moving to a new country. "
"Our aim is to help students move here with the minimum of stress and offer them a complete range of products and services from reputable companies" says Beverley Nash, Director at UK Work Study. "Both our Study and Work Packs make it easy for people to organise themselves in advance; banks and money are areas that many people worry about, and we can take care of those issues. We want to offer a specialist service to different countries, and Unipacks knowledge and expertise in China makes that a good fit for us. They have a superb reputation in their area, and we are delighted to be working with them."
Chinese customers will be able to purchase the UK Study Pack through the Unipacks website using the payment method offered by Unipacks.
UK Work Study
UK Work Study specialises in helping international students and workers prepare for their move to the UK. The UK Study Pack and UK Work Pack contains numerous items to assist in the move, this includes the setting up of a bank account before arrival, pre-paid cash card, a UK telephone number, free international money transfer, National Insurance number assistance, comprehensive guides to the UK and partnering with other specialist companies to cover all the key areas of moving and providing expert advice.
For more information visit: http://www.uk-study-pack.com or http://www.uk-work-pack.com or email info(at)ukworkstudy(dot)com.
See how a Study Pack can help a student move to the UK - see our video at: http://youtu.be/4xD90tejRSQ
Unipacks
Unipacks provides a variety of quality starter kits for the home – with packs already made up for the kitchen, bedroom and study. Packs are ordered on-line and will be waiting on arrival in the UK.
Unipacks prides itself on sourcing quality items at low prices, and offers 24/7 customer support. Unipacks supplies kits to customers from all over the world, and has offices in the UK and China.
For more information visit: http://www.unipacks.com or sales(at)unipacks(dot)com