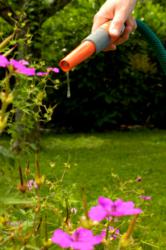 (PRWEB UK) 24 July 2012
It's been a slow summer for gardeners. After a reasonably mild winter, many were excited at the prospect of a great summer to start new projects and enjoy the Great British garden. Instead, an early drought followed by heavy deluges and flood conditions has stopped summer in its tracks, with conditions described as 'apocalyptic' by the National Trust.
However, tentative predictions from the Met Office indicate that the weather may be about to improve. (http://metofficenews.wordpress.com/category/met-office-news/) Although no long dry stretches are as of yet predicted, some warm weather will give plants a chance to grow, and most importantly will allow gardeners to catch up on long-cherished projects, including turfing the garden.
Online Turf has shared many gardeners' concerns at the recent weather conditions. Being farmers, they are acutely aware of the environmental impact of poor weather on the land as well as the impact of the weather problems on their customers. However, recent assessments of the turf are showing some very good signs. The fields have coped well with the recent rain, and the weather has at least alleviated the problems with reservoir and groundwater levels. This means that any newly planted turf will root quickly, able to absorb vital nutrients from the ground. Any forthcoming sunshine will help to make the job of the gardener significantly more enjoyable.
"Turf is a very resilient plant," explained M.D. Ian Mercer. "In many ways, it's more resilient than humans! Although we don't recommend over-soaking any lawns, the dry conditions of the preceding months mean that the turf fields have coped with the wet conditions very well. We're able to harvest turf for any customers that want to take advantage of the upcoming good weather. Even better than that, the turf is looking great!"
With many recent news reports on the impact of the recent wet weather on the retail and particularly gardening sector, it's vital to British businesses that consumers try to make the best of the any good weather. Brighter weather and a pleasant garden are some of the best ways to make the most of the British summer, so why not finish that garden project and enjoy the summer of the sport in what will hopefully be a brighter August?
Online Turf can be found at http://www.onlineturf.co.uk, and the office can be contacted by telephone and by e-mail for enquiries and orders.