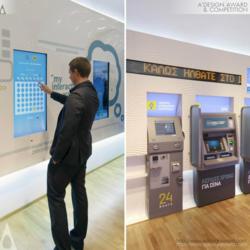 Como, Italy (PRWEB) July 20, 2012
A' Award and Competitions are proud to announce that the project National Bank of Greece's I-Bank by Allen International has been awarded with the renowned A' Design Award at Interior Space and Exhibition Design Competition selected as the winner by the international arbiters of the A' Design Awards & Competitions among a great number of submissions.
Details of National Bank of Greece's I-Bank
Allen International, the designer of the awarded design National Bank of Greece's I-Bank says "Concept store that houses and provides guidance on it's online, mobile and telephone banking offers. There is no counter - instead customers use in-store computers to complete daily banking transactions eg. setting up orders and viewing statements, with the support of the store's 4-person team. The NBG app is available on iPads and iPhones at the central 'Great Ideas' stands, private booths can be used for internet and phone banking, and touch screens within the Interactive Zone enable visitors to access banking services and play games. " Learn more and download high-resolution photos at: http://www.adesignaward.com/design.php?ID=25020
The A' Design Award
The A' Design Award is a prestigious award given to top 20% percentile designs that has delivered an exemplary level of sublimity in design. The designs are judged by a panel of three different jury which is composed of Academic, Professional and Focus Group Members. The designs are evaluated with score normalization to remove any biases and are voted on aspects such as functionality, ergonomics, engineering, presentation, innovation, usability, fun details, technology, and any other specific points that could be considered, each of these points are further weighted for different jury groups.
About A' Design Award and Competitions
A'Design Award and Competitions, aims to highlight the excellent qualifications of best designs, design concepts and design oriented products. A' Design Award and Competitions are organized and awarded annually and internationally in multiple categories to reach a wide, design-oriented audience. Learn more at: http://www.whatisadesignaward.com