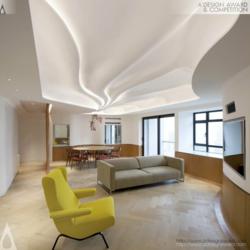 Como, Italy (PRWEB) July 21, 2012
A' Award and Competitions are proud to tell that the design Kwong Shook Ling Residence by Dylan Baker-Rice has been announced as a winner of the noteable A' Design Award at Interior Space and Exhibition Design Competition picked as the winner by the esteemed judging committee of the A' Design Awards & Competitions within thousands of participants.
More on Kwong Shook Ling Residence
Dylan Baker-Rice, the designer of the awarded work Kwong Shook Ling Residence, Hong Kong demonstrates "The Flat is unique in the use of contemporary western and traditional Chinese Architectural elements to create a contiguous space. Its formal language bounces between the two influences to create a synthesis that is neither one nor the other. The resultant flat is curvaceous and sinuous at times as in the ceiling and the curved cabinetry in the living room. Then angular with sharp cut outs to delineate the storage vitrines in the dining area and the cut-outs for the windows. It utilises natural materials and design elements to create a unique space." Learn more about the award winning design: http://www.adesignaward.com/design.php?ID=25255
Design Team for Kwong Shook Ling Residence
Kwong Shook Ling Residence, Hong Kong was realized by Dylan Baker-Rice, Damita Yu, and Eli Lui.
The A' Design Award
The A' Design Award is a prestigious award given to top 20% percentile designs that has achieved an exemplary level of quality in design. The designs are judged by a panel of three different jury which is composed of Academic, Professional and Focus Group Members. The designs are evaluated with score normalization to remove any biases and are voted on aspects such as functionality, ergonomics, engineering, presentation, innovation, usability, fun details, technology, and any other specific points that could be considered, each of these points are further weighted for different jury groups.
About A' Design Award and Competitions
A'Design Award and Competitions, aims to highlight the excellent qualifications of best designs, design concepts and design oriented products. A' Design Award and Competitions are organized and awarded annually and internationally in multiple categories to reach a wide, design-oriented audience. To learn more visit: http://www.whatisadesignaward.com