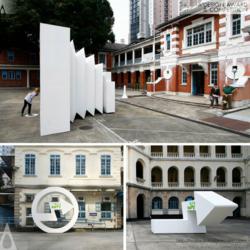 Como, Italy (PRWEB) July 21, 2012
A' Award and Competitions are happy to share that the design First Photographs of Hong Kong by Design Systems Ltd has been honored with the prestigious Bronze A' Design Award in Interior Space and Exhibition Design Category chosen as the winner by the respected jurors of the A' Design Awards & Competitions amidst numerous projects.
More on First Photographs of Hong Kong
Lam Wai Ming, the creator of the awarded work First Photographs of Hong Kong demonstrates "Flashlight indicator models were set to guide visitors to the entrance of the exhibition hall where a giant white camera model awaits. Standing in front of it, visitors can see the superimposing views of the black-and-white photo of early Hong Kong and the current exterior of the exhibition venue. Such setting implies that visitors can view the old Hong Kong through the giant camera and discover the history of Hong Kong photography through this exhibition. Indoor rotunda and house-shaped display stands were set to display historical photos as well as present an epitome of "Victoria City"." Learn more at: http://www.adesignaward.com/design.php?ID=23743
The Bronze A' Design Award
The Bronze A' Design Award is a prestigious award given to top 10% percentile designs that has achieved an exemplary level of in design. The designs are judged by a panel of three different jury which is composed of Academic, Professional and Focus Group Members. The designs are evaluated with score normalization to remove any biases and are voted on aspects such as functionality, ergonomics, engineering, presentation, innovation, usability, fun details, technology, and any other specific points that could be considered, each of these points are further weighted for different jury groups.
About A' Design Award and Competitions
A'Design Award and Competitions, aims to highlight the excellent qualifications of best designs, design concepts and design oriented products. A' Design Award and Competitions are organized and awarded annually and internationally in multiple categories to reach a wide, design-oriented audience. To learn more visit: http://www.whatisadesignaward.com