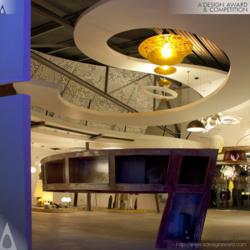 Como, Italy (PRWEB) July 22, 2012
A' Award and Competitions are delighted to share that the project Light Design Center Speyer by Peter Stasek became winner of the famed Bronze A' Design Award in Interior Space and Exhibition Design Category elected as the winner by the respected jury members of the A' Design Awards & Competitions within thousands of participants.
More information on Light Design Center Speyer, Germany
Peter Stasek, the designer of the winning project Light Design Center Speyer, Germany explains "The showroom of the new Light Center Speyer, situated in a factory building, was to be designed as exhibition space, consulting area and meeting place. Here, a frame generating interior design synergy effects was to be created for all latest light trends, technologies and light designs. Its sophisticated structure was to build the backbone of the entire light exhibition, but at the same time was never to overshadow the priority of the lighting objects to be exhibited. For this purpose, nature created a unifying shape as inspiration: the "twister," a natural phenomenon with invisible forces..." Learn more and download high-resolution photos at: http://www.adesignaward.com/design.php?ID=25404
Creative Team for Light Design Center Speyer, Germany
Light Design Center Speyer, Germany was imagined by Architect Peter Stasek and Light Designer Stefan Möller.
The Bronze A' Design Award
The Bronze A' Design Award is a prestigious award given to top 10% percentile designs that has accomplished an exemplary level of excellence in design. The designs are judged by a panel of three different jury which is composed of Academic, Professional and Focus Group Members. The designs are evaluated with score normalization to remove any biases and are voted on aspects such as functionality, ergonomics, engineering, presentation, innovation, usability, fun details, technology, and any other specific points that could be considered, each of these points are further weighted for different jury groups.
About A' Design Award and Competitions
A'Design Award and Competitions, aims to highlight the excellent qualifications of best designs, design concepts and design oriented products. A' Design Award and Competitions are organized and awarded annually and internationally in multiple categories to reach a wide, design-oriented audience. To learn more visit: http://www.whatisadesignaward.com