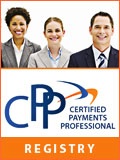 We are excited to announce that another member of our management team, Seth Resnick, has completed the CPP program.
Atlanta, GA (PRWEB) July 24, 2012
Payscape Advisors, a rapidly growing merchant services provider with payment processing solutions for every type of merchant, demonstrates their continued commitment and participation in the ETA's Certified Payments Professional program. Payscape Advisors launched this initiative within the Payscape management program, and will extend involvement to every account manager within Payscape this year.
"We are excited to participate in this important initiative, and as a premiere payment and technology company, we pride ourselves on the capabilities and extensive industry knowledge of our management and sales team" said Jeremy Wing, President and Co-Founder. "The CPP sets the standard, and we agree that it is a symbol of excellence, which is why we feel so strong about Payscape's participation in the program. We are excited to announce that Seth Resnick, the District Sales Manager for Atlanta, has completed the CPP program and is leading this initiative within his district sales team."
About ETA and the Certified Payments Professional Program (CPP)
The CPP program set the standard for professional performance in the payments industry and is a symbol of excellence. It signifies that an individual has demonstrated the knowledge and skills required to perform competently in today's complex electronic payments environment.
About Payscape Advisors
Payscape Advisors makes it simple for businesses and individuals to collect money by accpeting credit cards, sending bills, collecting donations or processing online registrations.