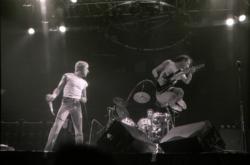 New York, NY (PRWEB) July 20, 2012
Presales for The Who's 2012-2013 "Quadrophenia Tour" begin on Friday, July 20th. Roger Daltrey and Peter Townshend original members of the legendary rock group, The Who, have announced firm plans for this huge tour throughout North America. During their upcoming tour they will perform "Quadrophenia" in its entirety which is an album they did nearly 40 years ago back in 1973. As of this date, 36 concerts have been scheduled in two separate legs with the Christmas holidays in between. The Who mega tour gets underway on November 1 and it will culminate at the end of February.
The Who hailed from England and were put together in 1964 (48 years ago!) by Roger Daltrey who was their lead vocalist and played harmonica and guitar. Pete Townshend played guitar, keyboards and vocals and did songwriting for the original band. John Entwistle was their bass guitarist and also did brass and vocals. This band was well known for their outrageous live performances which often included destruction of instruments. Over the years The Who has sold around 100 million records which includes 27 top forty singles in the UK and United States together, 17 albums in the top ten and 18 Gold, 12 Platinum and 5 Multi-Platinum awards in just the United States. They became popular quickly in the UK after they had a run of top ten hit singles that pirate radio stations helped boost for them. The all time favorite "Tommy" which was released in 1969 became the first of many top albums in the United States. The band was also met with tradegy when drummer Keith Moon died of a drug overdose in 1978 due to overconsumption of a drug that had been prescribed to help him with the symptoms of alcohol withdrawl. He had led a wild and crazy lifestyle consisting of drinking, drugs and the blowing up of toilets was his signature action. This childish prank even caused the band to have to stay outside of New York City when they were touring because of fear that he'd be up to his usual antics.
Band members for this tour will be Roger Daltrey as lead singer and guitarist, Peter Townshend at vocals and guitar, Zak Starkey on the drums, Simon Townshend (guitar and backup vocals), Chris Stainton at the keyboards, Pino Palladino on the bass and Frank Simes as musical director and keyboards and backup vocals. Peter Townshend was the main songwriter of The Who. Ticket Presales begin at 10:00 a.m. EST Friday morning, July 20th.
Originally The Who was to perform at the halftime Super Bowl show in 2010. Sadly, Peter Townshend had been experiencing hearing problems and therefore they were unable to perform as originally planned. However, while Townshend was on the mend, he was busy with the creation of their "Quadrophenia" box set which was released in the fall of 2011. Townshend was the main songwriter for The Who in their heyday.
The band has also produced a documentary named "The Who: Quadrophenia - Can You See the Real Me?" which will have a special screen date prior to their tour. This date is on Tuesday, July 24th and The Who fans will see things never seen before such as the late Kevin Moon's (original drummer) collapse onstage during their original tour's first date. The documentary has also included songs from the popular album "Quadrophenia."
Also, the management at Dunkin Donuts center in Providence, RI has said they will still honor any tickets from the 1979 concert in Rhode Island that was cancelled as a precaution in RI as a result of a stampede at The Who concert in Cincinnati that killed 11 fans. The concert had festival seating (first come first serve) and fans could hear the band playing and thought the concert had began. In actuality, the band was just doing a final sound check. Festival seating was banned for 25 years in Cincinnati following this horrific incident. The Who will visit Providence, RI on the last day of their tour, February 26, 2013.
The Who 2012-2013 Tour Dates:
First Leg of The Who Concert Dates (before the Christmas Holidays):
11/01/12 – Sunrise, Florida at BankAtlantic Center
11/03/12 – Orlando, Florida at Amway Center
11/05/12 – Duluth, Georgia at The Arena at Gwinnett Center
11/08/12 – Greenville, South Carolina at Bi-Lo Center
11/09/12 – Greensboro, North Carolina at Greensboro Coliseum
11/11/12 – Pittsburgh, Pennsylvania at Consol Energy Arena
11/13/12 – Washington, DC at Verizon Center
11/14/12 – Brooklyn, New York at Barclays Center
11/16/12 – Boston, Massachusetts at TD Garden
11/20/12 – Montreal, Quebec at Bell Centre
11/21/12 – Ottawa, Ontario at Scotiabank Place
11/23/12 – Toronto, Ontario at Air Canada Centre
11/24/12 – Detroit, Michigan at Joe Louis Arena
11/27/12 – Minneapolis, Minnesota at Target Center
11/29/12 – Chicago, Illinois at Allstate Arena
12/02/12 – Nasvhille, Tennessee at Bridgestone Arena
12/05/12 – New York, New York at Madison Square Garden
12/06/12 – Newark, New Jersey at Prudential Center
12/08/12 – Philadelphia, Pennsylvania at Wells Fargo Center
12/09/12 – Uncasville, Connecticut at Mohegan Sun Arena
Second Leg of The Who Concert Dates:
01/28/13 – Anaheim, California at Honda Center
01/30/13 – Los Angeles, California at Staples Center
02/01/13 – Oakland, California at Oracle Arena
02/02/13 – Reno, Nevada at Reno Events Center
02/05/13 – San Diego, California at Valley View Casino Center
02/06/13 – Glendale, Arizona at Jobing.com Arena
02/08/13 – Las Vegas, Nevada at The Joint
02/12/13 – Denver, Colorado at Pepsi Center
02/14/13 – Tulsa, Oklahoma at BOK Bank of Oklahoma Center
02/16/13 – Louisville, Kentucky at KFC Yum! Arena
02/17/13 – Columbus, Ohio at Schottenstein Center
02/19/13 – Hamilton, Ontario at Copps Coliseum
02/22/13 – Atlantic City, New Jersey at Atlantic City Boardwalk Hall
02/24/13 – Manchester, New Hamphsire at Verizon Wireless Arena
02/26/13– Providence, Rhode island at Dunkin' Donuts Center
About CheapConcertTickets.me:
Cheap Concert Tickets delivers tickets to sold out concerts and events worldwide when no one else can and they do so at discounted prices. As an affiliate of the Ticket Network Exchange, they can guarantee delivery of tickets on time for sporting events like NASCAR, NBA, NFL AND NHL, and for the hottest theater and concert events too. With Cheap Concert Tickets, customer service is a priority, for more information email support(at)cheapconcerttickets(dot)me. This website also has sold out Mumford and Sons tickets, One Direction tickets and cheap Justin Bieber tickets.
Cheap Concert Tickets is in no way affiliated with The Who and any trademarked terms in this press release are for descriptive purposes only.