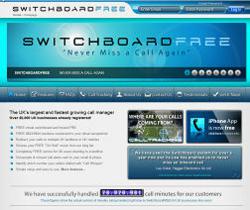 By using our virtual receptionist service, we can ensure that our customers never miss a call again
(PRWEB UK) 22 July 2012
June 2012 saw Oulton Broad based company SwitchboardFree clock-up 40 million minutes of call handling, supporting customers and businesses from all over the country. 'SwitchboardFree started in 2006 as a small company and has steadily grown, despite the difficulties faced by the economy' says SwitchboardFree sales director Grant Hardy 'that we have reached such a milestone is an achievement. We support over 34,000 customers in the UK and have the capability to look after small businesses and home workers as well as large companies such as Groupon and News International. Anyone can benefit from looking after their calls, and ultimately their customers, well and because our services are free of charge, there is nothing to lose'
SwitchboardFree have developed their services over the years to meet demands of the consumer and the ever-changing technology environment. Initially starting as a free call management system offering businesses the opportunity of having their calls held in a queue or re-directed to another phone or mobile, the services have expanded to include much more. Voicemails and missed-call alerts sent to phone and email; automated attendant; caller identification; call statistics & reports and SEO call tracking tools. Matt Rayner, customer delivery specialist for SwitchboardFree, adds 'businesses who use our service find it invaluable for tracking calls, monitoring sales demographics and with the ability to return missed calls, offer an exceptional level of customer service. In addition to this we have upgraded and improved our SwitchboardFree iPhone app, ensuring our customers have full access to the service from their iPhones whilst on the move'.
Product development at SwitchboardFree is carried out in-house by staff with specialist IT, technical and marketing skills. As a growing company, they are keen to hear from local people who can offer such help 'we've had to outsource some of our development to IT specialists in London which is not an ideal scenario. We would prefer to employ local people and support the local economy' said Mr Hardy 'therefore we are always open to discussion from technical and marketing specialists'.
Mr Hardy concludes 'keeping one step ahead is important to us as we need to predict what is going to happen so that we adapt our business accordingly. However, we never lose sight of the here and now so that our customers can be sure of our full and focussed support. By using our virtual receptionist service, we can ensure that our customers never miss a call again'.