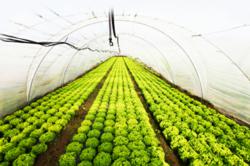 "Non-Toxic 100% Biodegradable Plastic manufactured at less than half the cost of that of current industry practice."
Las Vegas, NV (PRWEB) July 20, 2012
Executive President Alisa DeBrouse of Tamarisk Technologies LLC, recognized recently for it's release of a successful oral insulin formulation, unveiled yet another disruptive technology on Monday July 16th 2012, this time aimed at revolutionizing Plastic Technologies, and Tamarisk' readiness to commercialize a unique biopolymer-based technology the company has been privately developing.
"Our work here is nearly done. We have successfully developed a multi-purpose Non-Toxic 100 percent biodegradable plastic for less than half the production cost of traditional plastics," said Alisa DeBrouse in Mondays executive address. Tamarisk's plastic formulation is produced from widely available and inexpensive natural monomers, which are processed at room temperature into a number of functional matrixes.
For years, the plastics industry has sought the development of an inexpensive biodegradable plastic material with very limited success. Although, corn and potato starch formulations once offered new possibilities, many soon realized it was not quite the solution the industry had been searching for. Not only did they discover the expense of starch processing to be far too excessive for making such technologies common practice, in comparison to traditional plastic processing practices, but also the plastic matrixes derived did not actually meet the standards of "true" biodegradability. Plastic ware, for example, made from cornstarch, takes more than 5 years to biodegrade once buried in soil, and furthermore, the matrix does not degrade 100%.
Soon, the industry turned to cellulose slurries in hopes of resolving a biodegradable plastic. However, attempts, once again, failed to provide a plastic of desired properties. The next concept involved the development of enzyme technologies, which could be fused within starch and/or cellulose plastics to assist in biodegradation upon contact with soil. Unfortunately, this too has fallen short and failed to provide a plastic of desired attributes, properties, and biodegradability essential to revolutionize the industry standards.
Although a number of companies with good intentions are committed to the "Go Green" concept and have started taking steps to make moderate improvements, most do not even consider the possibility of 100 percent degradability, much less within 30 days of soil submersion. However, this new technology at Tamarisk Technologies may very well set the bar higher for standards of plastic manufacturers around the world. Tamarisk's new 100/30 ana-Plasticizer is said to be the first enviro-friendly "functional" plastic matrix, biodegrading 100 percent within 30 days of submersion within soil. Benefits of this new plastic include:

Tensile Strength 3040psi (1mm Thin Film)

Elongation 33 percent
Water Uptake. Less than one percent.
Injection Molding. 1 step room temperature
Cure Time. Less than 30 Seconds at room temperature
Shelf Stability. Real time 5 years and ongoing.
Aerobics 100 percent resistant to aerobic microbes.
Anaerobes Susceptible within soil
Promotes Soil Health 100 percent used as nutrient by micro flora
All-in-One Same backbone for ridgid or flexible
Advanced Manufacturing. Green Processing. Formulations Available.
Utility: May be used in the production of or replacement of bags, wraps, bottles, cups, plates and many other plastic products others. Produced by a natural Sol-Gelled process and listed as GRAS with FDA.
For more information regarding Tamarisk's 100/30 ana-Plasticizer and other opportunities, visit http://www.tamarisktechnologies.com or contact Chris Lapoma at (405) 279-1250 ext. 222.