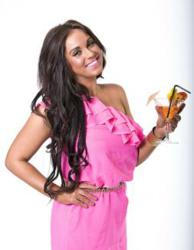 Vicky uses Harland 100% Remy Human Hair Clip In Extensions
(PRWEB UK) 23 July 2012
It has been reported that Vicky Pattison from MTV's hit TV show Geordie Shore purchases her Luxury Hair Extensions from buyhair.co.uk. The 'Chaos in Cancun' series of the show is currently airing on MTV, where the cast are sent by boss Anna to house sit in Mexico. The series is usually shot in Newcastle-Upon-Tyne and is the British Adaption of the American show Jersey Shore.
The current series of Geordie Shore has shown Vicky pruning her clip in hair extensions next to 'Harland' branded packaging, only available from BuyHair.co.uk. Vicky's Twitter account has been inundated with fans asking questions about her hair and how she manages to get it so thick and natural-looking. Vicky has Tweeted to fans with comments such as, "To everyone asking about my hair.. It is extensions.. All of it!!! Lol!! Have a look at [buyhair.co.uk] for my exact ones! Amazing!"
Vicky uses Harland 100% Remy Human Hair Clip In Extensions. Remy means that all of the hair cuticles are facing in the same direction, which reduces the risk of the extensions becoming tangled and frizzy. They can be treated just the same as your own hair, as they can be cut, curled, straightened and blow dried.
With the latest news of Jay and Rebecca leaving Geordie Shore after the current series, it will be exciting to find out who their replacement will be in Season 4, which begins filming next week. Vicky and her partner Ricci got engaged in Mexico in Season 3, which will be hitting our screens very shortly. We can't wait to watch how the couple's relationship blossoms on-screen, and what crazy antics the rest of the cast get up to. Keep an eye out for Vicky's amazing hair on the next episode of Chaos in Cancun, airing Tuesday 24th July at 10pm on MTV. In the meantime, visit http://www.buyhair.co.uk to check out the amazing range of Clip In Hair Extensions available to help you achieve luscious locks like Vicky's in minutes!