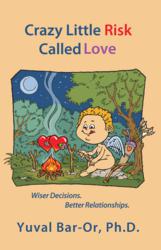 The problem with the no-risk relationship is that it's ultimately a no-relationship relationship.
Baltimore, MD (PRWEB) July 23, 2012
Biologically and psychologically, we are hard-wired to seek and participate in intimate relationships. But such activities come with significant risks. The number of couples who live "happily ever after" is small. From a risk-management perspective, our repeated voluntary exposure to love risk appears highly irrational. In this book, Dr. Yuval Bar-Or looks at love from a fresh perspective: that of a risk manager. In doing so he attempts the impossible—trying to view objectively what is inherently an emotion-laden challenge.
This light-hearted exploration of love, human sexuality, risk, and loss is easy to read and entertaining. Most importantly, it explores practical solutions for reducing love risk, helping us to enjoy more of love's highs and experience fewer of its lows.
"Crazy Little Risk Called Love" identifies love-related risks and potential physical, emotional and financial losses or damages; extolls love's benefits; discusses the tradeoffs between those risks and rewards; lists tools and actions we can take to reduce love risk; exhorts readers to change their attitudes about love and related taboos; suggests ways to improve judgment and decision making; and reminds us of the crucial role love plays within our planet's fragile yet magical eco-system.
"Crazy Little Risk Called Love: Wiser Decisions. Better Relationships" is now available at a list price of $14.95. For bulk orders please visit the publisher site at http://tlbcorp.com.
For more information, or to speak with Dr. Yuval Bar-Or, please call 410-773-9443 or visit http://lightbrigadecorp.com/.
About Dr. Yuval Bar-Or
Dr. Yuval Bar-Or is founder of The Light Brigade LLC, a consulting company dedicated to helping its clients make better financial and managerial decisions by managing risk. Drawing on Dr. Bar-Or's expert knowledge of business and risk mitigation, The Light Brigade provides unbiased advice to help clients make better decisions, thereby reducing personal and corporate risk.
Dr. Yuval Bar-Or has been quoted in various media, including The Wall Street Journal, The Baltimore Sun, BusinessWeek, Forbes.com, TheStreet.com, Bankrate.com, Washingtonian, Investopedia.com, InvestmentNews.com, AdvisorOne.com, The Arizona Republic, Consumers Digest, FoxBusiness.com, US News & World Report, Treasury & Risk, Morningstar.com, and RIABiz.com. Dr. Bar-Or received his Ph.D. from the Wharton School of Business and is an adjunct professor at Johns Hopkins University's Carey Business School and the University of Maryland University College, where he teaches courses in investments and decision making.
For more information, visit http://anyonecanlearn.net/ or http://www.creditsolutionsdemystified.com/.
SOURCE The Light Brigade LLC
###