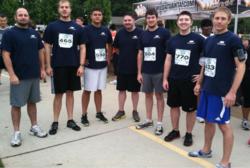 I am excited to support a cause that is truly creating a better future for our community
Atlanta, GA (PRWEB) July 28, 2012
Foundation Financial Group employees in its Atlanta Regional Sales Center and Operations Division, located at 100 Galleria Parkway, Suite 1400 in Atlanta Georgia, teamed up to participate in the Atlanta BeltLine Southwest 5K run that took place on July 14th. The event was organized by the Atlanta BeltLine Running Series and benefited the Atlanta BeltLine Partnership. The employees volunteered their time and made a monetary donation to the cause.
The Atlanta BeltLine Southwest 5K is a Run/Walk along the Atlanta BeltLine Southwest Trail and through the historic West End and Westview neighborhoods. The race course will introduce participants to many local parks and features a ¾-mile off-road jaunt within the Atlanta BeltLine corridor. It is the second 5K of the 2012 Atlanta BeltLine Running Series.
The Atlanta BeltLine Running Series is a fantastic way for people to become more familiar with the Atlanta BeltLine, and burn a few calories in the process. Each race showcases the amazing developments happening along different segments of the Atlanta BeltLine, and participants will hopefully come away with a better understating of the project that they can then share with others in their community. Begun in 2011, the Atlanta BeltLine Running Series offers a fun, relaxed race atmosphere, great post-race activities, and a dynamic way to bring people together to experience the Atlanta BeltLine first-hand.
"I believe the BeltLine is transforming the city of Atlanta. In 15 years, it will be considered the centerpiece of an amazing period of growth and enthusiasm for Atlanta," said William Gordon, senior vice president of operations at Foundation Financial Group. "I am excited to support a cause that is truly creating a better future for our community. The Atlanta BeltLine Partnership is an amazing foundation because it brings together different sectors to ensure all segments of the community along the BeltLine improve economically."
The Atlanta BeltLine Partnership is a non-profit organization committed to raising funds from private and philanthropic sources to support the Atlanta BeltLine; working with neighborhoods, community organizations, faith organizations, businesses and other groups to raise general awareness and broad-based support for the Atlanta BeltLine; and serving as a catalyst to mobilize resources to address the social concerns raised by new development around the Atlanta BeltLine.
About Foundation Financial Group
Foundation Financial Group is a multibillion dollar financial services corporation. FFG offers its customers Best in Class service through its Insurance, Retirement, Mortgage, and Tax Services. Named one of the fastest growing financial companies in the country by INC magazine, FFG has continued to grow its nationwide presence with over 100,000 new customers per year in 38 states. In addition to the value that Foundation Financial provides every customer, it is also dedicated to its communities and the people who live in them. Through a vast array of philanthropic endeavors the company not only provides significant monetary donations but also fosters a workforce environment that encourages all team members to personally make a difference. Foundation Financial is committed to its strong focus on customer service and community investment as it continues to grow and compete with the largest financial institutions in the world.
For additional information, interview and image requests, contact the Foundation Financial Group Public Relations team at 866-659-3200.