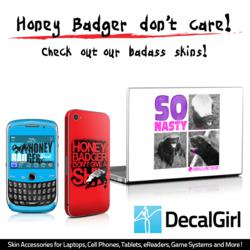 Milton, DE (PRWEB) July 27, 2012
DecalGirl, which has proudly remained on the cutting edge of pop culture with its licensing agreements, today announced their new line of "Honey Badger Don't Care™" skins.
Honey Badger has taken the world by storm, growing from a small part in a National Geographic special to a brand that has been featured on CNN, ESPN, MSNBC and NPR, as well as in print media such as Forbes, The LA Times, USA Today, Time, and more. Randall, the creative force behind the brand, narrated the video that became a YouTube sensation, "The Crazy Nastyass Honey Badger," and wrote the bestselling book "Honey Badger Don't Care: Randall's Guide To Crazy Nastyass Animals." Now, thanks to Randall's partnership with DecalGirl, Honey Badger fans will be able to adorn their electronic devices from cellphones to laptops and everything in between with skins featuring their favorite fearless mammal.
According to Randall, "Honey Badger don't give a shih tzu, however in the case of who best to partner with on USA made, die-cut vinyl skins for your cellphones, laptops, and eReaders, I know, lovers, Honey Badger would only partner with DecalGirl to bring fans only the best, most innovative skins on the planet! Now that's so f*****g badass, it's nasty!!!"
Linda Castillon, SVP for licensing at DecalGirl said, "DecalGirl is always on the hunt for the best and the brightest and there isn't a more exciting, on-trend license than Randall's Honey Badger that we could have partnered with right now. Honey Badger is badass, and so are our skins."
About DecalGirl
DecalGirl, in business since 2003, is the oldest US-based skin company, offering skins for almost every available gadget, including cell phones, laptops, tablets, eReaders, gaming devices and more. Everything at DecalGirl, from skin design and production to materials, marketing, and customer service is U.S. based. Designs are printed on top quality vinyl then sealed with the customer's choice of a gloss or matte finish, creating a skin that will hold up to all except the roughest treatment, and which comes off easily and cleanly when it's time for a new one. Skins cover much or all of a device, providing maximum scratch protection and are thin enough that they don't interfere with covers or hard cases. DecalGirl skins also come with free downloadable matching wallpaper on supported devices. DecalGirl offers over 2500 designs from over 100 artists, starting at $9.99.