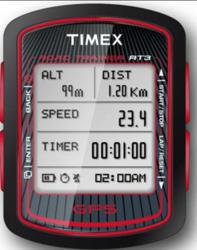 What the pros are using is very important to us because this is the stuff that works
Bozeman, MT (PRWEB) July 20, 2012
John Yarington has been testing the Timex Cycle Trainer 2.0 for a few weeks on his mountain and road bikes for Heart Rate Watch Company blog before departing for a three week trip in the High Sierras from Yosemite to Mount Whitney (14,505 feet). We caught up with him yesterday on his front porch between his Beartooth back country adventures and his High Sierras trip.
"John said he was not very impressed with the Timex Cycle Trainer 2.0 and it has problems losing satellites and did not have the best acquisition time," says Rusty Squire. He adds, "John
doesn't easily discount products if he can find something to be enthusiastic about but I have to say he found very little to be enthusiastic about here."
One of the larger problems for Timex is trying to catch up with the technology of Garmin who has established a big lead in GPS and bike computers.
"I've watched the Tour de France very closely this month - lots of Garmin Edge 500 bike computers being used, quite a few Polar RCX5 heart rate monitors being used, but I have not seen any Timex products," says Squire. He adds, "What the pros are using is very important to us because this is the stuff that works."
Heart Rate Watch Company blog is one of the only fully independent blogs. "We don't get our products from the manufacturers, we buy them and test them and then say what we want to," says Squire. Almost all blogs get free advanced demos but the question is what incentive they have to bite the hand that feeds them. Most of these blogs are affiliates of places like Amazon and receive commissions from selling the products they review. They all act like they are independent, but they are not, and theses blogs don't offer customer after-care on the products they are selling you.
"The blogger sales model is flawed in our opinion because they direct you to buy from big comparison shopping engines like Amazon but there is nobody there that understands these products and the ability to get help does not exist, they rely solely upon the manufacturer for after-care," says Squire.
For now, Heart Rate Monitor Blog is taking the Timex Cycle Trainer 2.0 off the menu of recommended bike computers and sticking with the Edge 500 and Polar CS500.