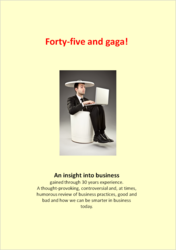 This is a thought-provoking, controversial and at times humorous review of business practices. It's the perfect read for executive downtime in the summer.
Gloucester, UK (PRWEB UK) 25 July 2012
David Cameron has announced recently that austerity may continue until 2020. So how will businesses adapt? Well, there is a rather interesting book released recently for business managers called "Forty-five and gaga!"
It contains a wealth of useful and practical information. Of particular interest in the current economic climate is the chapter that refers back to previous recessions and how businesses responded. For example, during the eighties and early nineties it became fashionable to restructure into flatter organizations. Many terms have been used for this process, including downsizing and the more interesting rightsizing.
Sometimes it has involved the downgrading of directors responsibilities into what are described as "key customer facing roles"… "designed to raise the importance of the customer".
This "raising of the importance of the customer" sometimes has the effect of keeping a job for the senior manager but removing the person who knows how to do the job! This scenario does raise some interesting issues.

Why remove the person who knows most about the customer and replace him with someone who knows little about his business, issues and needs?
Why was the customer not already important?
Why not develop and empower the person who knows most about the customer?
More usually, though, the downsizing process has involved the large-scale removal of middle and senior (= expensive) management.
Simply removing the middle and senior managers does not necessarily make an organization flatter and more responsive. It can often lead to a situation where the company has fewer levels in the hierarchy but there is a huge gap between the Junior Manager level and the main board. Far from being flatter, it has merely introduced a vacuum. David refers to this gap as the "incompetence gap".
So how can an organization really make itself more customer-focused, achieve faster decision-making for its customers and develop its more junior staff to become more valuable employees capable of taking on higher value decisions?
The **@!sizing chapter of Forty-five and gaga! explores the pros and cons of various organisational structures and provides practical and pragmatic guidance for today's business managers.
The author, David Hunt, is an experienced independent director. Having been made redundant at the ripe old age of 45, he was told he was too old to get another job in sales or marketing in the IT industry. The journey he has been on since then has been remarkable, so much so that he simply had to write the book.
This is a thought-provoking, controversial and at times humorous review of business practices. But lessons learned along the way have turned into nuggets of business wisdom that pack this book from cover to cover and could prove invaluable to you whatever your age or business experience.
It's available now to order, and at just £14.99 a copy, it's the perfect read for executive downtime in the summer.
And you can read more about it here.
David Hunt, through his services company Interimco, provides independent transformation and transition leadership to businesses of all sizes. Projects to date include Governance Risk and Compliance solutions, business rescue, business development for trade sale, merger and acquisition negotiations, commercial contract negotiation, and sales and marketing management.