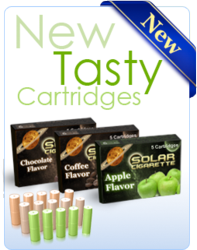 Get access to your own personal smoking buddy to help you stay committed and offer the VIP service you deserve while making the switch to a better lifestyle.
Miami, Florida (PRWEB) July 21, 2012
The Solar Cigarette electronic cigarette has helped smokers fight off nicotine withdrawals but now with the use of their vitamin packs can help smokers avoid putting on the pounds after they quit. The 2nd generation Solar Cigarette still offers both nicotine and non nicotine refill cartridges but give smokers a choice to live a healthier lifestyle.
The company created a wide variety of flavors to enhance the smoking experience of smokers with the introduction of strawberry, vanilla, chocolate, and coffee flavors which smokers can choose to have a much different smoking experience. Discover the new "Youth-Phoric" flavors smokers are raving about.
Since SolarCigarette.com listens to it's clients needs and wants they have created their new "Youth-Phoric" vitamin packs that not only give smokers a healthier smoking experience but gives them a choice of a variety of different vitamins they can use to replace nicotine such as ginseng, vitamin B, and vitamin Q (COQ10). All of these vitamin packs serve its own purpose in helping smokers live a much healthier lifestyle while still getting the same satisfaction of smoking traditional cigarettes.
"Coenzyme Q10, also known as CoQ10 or Vitamin Q, is one of the most promising tools in the anti-aging arsenal. Research has proven that CoQ10 benefits include playing a role in the treatment and prevention of a host of age-related disorders."
Read more at: solarcigarette.com/coq10
A representative of SolarCigarette.com states that many of our clients are now switching to our 0mg of nicotine flavors which is basically vaporized vitamins. They feel as if they are really smoking but instead of inhaling nicotine they are inhaling vaporized liquid vitamins which will help them lose weight, provide them with more energy, and help with the anti-aging process.