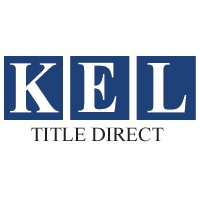 Charging anything above the title insurance rate mandated by the state creates a hardship on homeowners.
Orlando, FL (PRWEB) July 20, 2012
KEL Title Direct is revolutionizing the title insurance business, charging only what the State of Florida requires for title insurance premiums and foregoing additional closing costs, such as those typically charged by agents for title search, title examination and closing services. The new approach is saving consumers hundreds and sometimes thousands of dollars.
KEL Title Direct's model comes at a time when the U.S. Consumer Financial Protection Bureau is ready to reveal a yearlong effort to simplify paperwork for closings. According to Bloomberg, the Bureau may recommend one total number that includes all charges – the APR calculation, title insurance and other closing fees.
The Bureau was scheduled to release final details of its new closing as early as today.
"Most people don't realize that title insurance rates are mandated by the State of Florida and already include compensation for underwriters bearing the risk for the transactions and generous commissions for the agents, who handle the closing," said Matt Englett, KEL Title Direct co-founder. "Charging anything above that creates a hardship on homeowners who are already struggling to afford a home."
Englett is host of a Central Florida radio program, "Under Oath," which explores legal issues in the headlines that affect consumers. In a recent program, he discussed the state of title insurance in Florida.
Title insurance offers protection against loss due to problems tied to the title of a property. The company underwriting the title insurance promises to reimburse up to the amount of the policy and any related legal expenses. Most lenders require title insurance as a condition of securing a mortgage or when consumers want to refinance a mortgage. Policies usually cover ownership disputes, invalid deeds, liens or errors.
Florida requires that that consumers pay $5.75 for every $1,000 of the total transaction. For example, on a $100,000 home purchase, the title insurance would cost $575. Of that amount, the title agent gets to keep 70 percent, and the underwriter keeps 30 percent. In other words, 30 percent covers the risk involved, while 70 percent is basically a commission to the agent. As noted previously, many agents also charge additional fees for title search, examination and closing services. KEL Title Direct does not charge any additional fees and can usually close the same day.
Mark Calabria, a former HUD official who is currently director of financial-regulation studies at the Cato Institute told Bloomberg, "If title insurance is part of the calculation, then lenders can negotiate volume discounts and push down the price that title insurers can charge."
About KEL Title Direct. KEL Title Direct LLLP is one of the fastest-growing, underwriter-owned title insurance agencies in Florida. As a direct agency of an A-rated underwriter, the company's goal is to reduce the closing costs associated with the purchase of title insurance, without sacrificing quality, and to maintain the highest level of service to clients. The company is located at 111 N. Magnolia Ave., Suite 1600, Orlando, FL 32801. For more information, visit http://www.keltigdirect.com or contact the company toll free at 855-339-6328