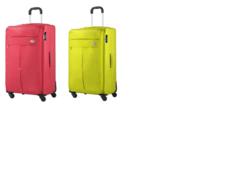 The American Tourister Colora is made with a glossy high resistant finish material
Kent (PRWEB UK) 24 July 2012
You can find this discount at http://www.luggagesuperstore.co.uk. The American Tourister Colora is made with a glossy high resistant finish material and is highly featured with a removable transparent pocket, not to mention, colours to add some spice to your life.
The American Tourister range has an intriguing history where, in 1932 Sol Koffler founded the American Tourister luggage company in Providence, Rhode Island by investing life savings into the dream. The goal was to create a significantly more durable product than any competitor's in the same price range. So Sol Koffler was determined to produce luggage priced at $1 in the midst of the Great Depression. A beautiful history can be read here at http://www.americantourister.eu/history.html
American Tourister products are rigorously tested to ensure that the travel products the customers trust meet stringent standards and also come in a variety of suitcases, sports bags and laptop bags. Keeping to its promise, the American Tourister range continues in strength and affordability and is aimed at the young traveller and family leisure.
Luggagesuperstore established site is in West Kingsdown, Kent. Their aim is providing competitive prices of the highest quality luggage and top calibre Customer Service for online luggage shopping.
Trina Chee-a-kwai
Luggage Superstore
01474 854666
Email information