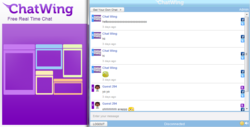 Los Angeles, CA (PRWEB) July 22, 2012
The Dark Knight trilogy is coming to an end, and Christopher Nolan's masterpiece is ready to hold the cyberspace in thrill. This is based on the mass anticipation of The Dark Knight Rises, the most-awaited film in Batman franchise. The Chatwing development team was quick enough to launch their latest chat box along with the premier of the movie, offering a reliable way for fans to discuss Dark Knight-related topics.
The Chatwing team has noted that fans have started talking about Tom Hardy's seemingly incomplete portrayal of Bane—the movie's antagonist. The reactions of the fans are divided, and each of them has their own opinions. Because of these constant discussions, Chatwing's developers have raised the threshold of their marketing campaign, hoping to reach thousands of bloggers and fans all over the Internet. This move has raised the visibility of Chatwing's free shout box by a significant percentage.
Fans of the Dark Knight franchise can also take advantage of Chatwing's social media feature. Now, aside from chatting in the free chat box, users can now log in with their Facebook or Twitter accounts. These users can now start sending invitations to each other. In Facebook, their Dark Knight discussions can continue. In Twitter, they can follow each other for more updates. Also, the latest version of the Chatwing chatbox can accommodate up to 600 users. This will ensure that people will be able to chat with sheer efficiency. In the following months, the Chatwing team is planning to upgrade the user capacity to 1000.
The Chatwing team is always ready to foster the happiness of movie fans, not only in the Dark Knight franchise, but in all other movies as well. In fact, the team is also considering expanding in various movie streaming sites so that fans can talk about their favorite movies while watching them. This makes the Chatwing free chatbox a reliable tool in terms of website communication.
About Chatwing.com
Chatwing.com specializes in the new field of website chat. Over years, the Chatwing team has introduced live chat widget for hundreds and thousands of blogs. The Chatwing application bridges people from many parts of the world, creating global synergy through the Internet. The shout box can be installed in just seconds, and it can be used for varying purposes such as leisure and Internet marketing. It also allows a user to customize the size, color, and name of the widget. Chatwing is 100% free for everyone.