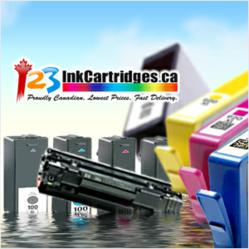 Montreal, Quebec (PRWEB) July 20, 2012
123inkcartridges.ca is an online company that is based in Canada. They specialize in offering a wide selection of toner and ink cartridges at affordable prices. Their inventory also includes many other home and office supplies to meet small or large company needs.
Customers who are looking for ink and toner cartridges can find them online at http://www.123inkcartridges.ca. The Canon 128 was recently added to the already expanded inventory of ink and toner cartridges. The product can be shipped to most locations in the United States or Canada. The Canon 128 is offered as just one of many of the remanufactured or compatible inkjet cartridges. These cartridges will be filled with as much as or up to three times the amount of ink as the original manufacturer's product.
The online store continues to expand a growing list of products. Customers can view the full line of products available at http://www.123inkcartridges.ca. Staff is available online 24/7 to help meet customer's needs. The company is intent on providing fast and courteous services for their online customers. They are dedicated to meeting customer needs with high quality products and providing a pleasant shopping experience every time.
About 123inkcartridges.ca
This company began its operations by offering ink and toner cartridges at a reduced price. The product line continues to expand as the company researches and recognizes the consumer demands. There are two physical plants located in Canada. One is in Montreal and the other Vancouver. Each of these facilities contains a high inventory that will allow them to fill consumer orders quickly and efficiently. No long wait and no 'back order' product. The staff are trained to prioritize customer needs to make sure that the customer experiences friendly and knowledgeable help, if needed; and receives a satisfactory response to their questions.