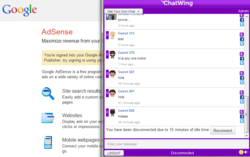 San Diego, CA (PRWEB) July 22, 2012
Blogging and entrepreneurship are two important factors that coexist in global harmony. This is based on the growing number of bloggers and entrepreneurs across the Internet. The Chatwing dev team understands the importance of any blog or website for an entrepreneur. This is the reason why the Chatwing team has launched a chat box that can uplift the blogging experience of many people. Chatwing's latest target for expansion is the ever-growing Blogspot community.
Entrepreneurs can benefit from the Chatwing chatbox through various ways. First, entrepreneurial bloggers can use the Chatwing tool to interact with their blog visitors on a regular basis. They can answer the questions and inquiries of the bloggers. Additionally, the shoutbox serves as a way to introduce blog changes or upgrades. Second, Chatwing allows social media integration. Now, guests and visitors can log in with their Facebook or Twitter accounts. This is useful for entrepreneurs because they can now expand their target market.
Months ago, the Chatwing chat widget encountered various setbacks due to technical glitches. To deal with these visibility-affecting errors, the Chatwing dev team has introduced various upgrades to the chat platform. In the long run, these upgrades have eliminated the technical glitches and have developed the chat tool's overall speed. In line with these upgrades, the Chatwing chat application has become more compatible with other blogging communities, raising its overall effectiveness. The dev team has also worked hard to maintain Chatwing's fast installation process. The team has noted that the average installation of the free chatbox takes only few seconds—customization process included.
Despite the rate of communication in the field of widgets, Chatwing's free shout box is still gathering thousands of signups from different areas of the Internet. This is because of Chatwing's versatility and the dedication of its developers. Adding to that, the Chatwing dev team is always ready to introduce upgrades that can make the chat app more reliable than ever.
About Chatwing.com
Chatwing.com specializes in the new field of website chat. Over years, the Chatwing team has introduced free chat box for hundreds and thousands of blogs. The Chatwing application bridges people from many parts of the world, creating global synergy through the Internet. The shout box can be installed in just seconds, and it can be used for varying purposes such as leisure and Internet marketing. It also allows a user to customize the size, color, and name of the widget. Chatwing is 100% available for everyone.