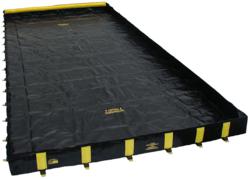 By far, the most user friendly spill berm available on the market.
Anderson, SC (PRWEB) July 22, 2012
Basic Concepts introduces the new patented FailSafe Rigid-Lock QuickBerm. Now the Rigid Lock QuickBerm is available with the patented FailSafe float up feature.
The Sentry QuickBerm product line has the best selling spill berm models in the secondary containment market. The addition of the Rigid-Lock QuickBerm with FailSafe entry/exit to the QuickBerm line furthers the goal of providing the most user friendly spill berms on the market.
This goal was accomplished by offering spill berms with user friendly features such as single piece construction and no assembly required. The Rigid-Lock QuickBerm with the FailSafe float up feature on the entry/exit wall combines these same desired features with a foldable right angle locking wall support that renders all other spill berm designs obsolete.
One simple tug on the side wall secures the Rigid-Lock support into a firm, locked position. A simple push on the wall unlocks the Rigid-Lock support and lays the wall down. The Rigid-Lock support can be driven over from any angle when the support is in the lowered position.
The Rigid-Lock QuickBerm with Fail Safe entry/exit offers no assembly, no parts to lose and has a clean, ergonomic design that reduces tripping hazards. By adding the float up FailSafe feature, the end user is able to leave the walls of the spill berm in the lowered position if desired. In the event of a fuel spill, the entry/exit walls will float up into an upright position containing the hydrocarbon spill.
Unlike other float up spill berm designs that will not work in snow and ice, the Rigid-Lock QuickBerm's entry/exit walls can be locked into an upright position by simply raising the wall by hand. This gives the customer flexibility in how they use the spill berm, raised or lowered entry/exit, you have spill protection.
Basic Concepts' spill berms help our customers do their jobs in a safe, more responsible manner. Basic Concepts is a World War II veteran owned small business that manufactures environmental and spill containment products. Founded in 1988, the company is celebrating its 24th year of serving a global market one customer at a time.
Want to know more about Basic Concepts' spill berms and its full line of secondary containment and environmental products? Please contact:
Basic Concepts, Inc
1310 Harris Bridge Rd
Anderson, SC 29621
phone 1-800-285-4203
http://www.basicconcepts.com