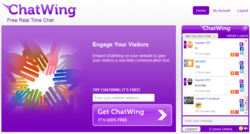 Miami, FL (PRWEB) July 22, 2012
Health blogging is now considered as one of the most prominent niches in the blogosphere today. Based on the numbers of health blogs created day by day, one can say that health information travels really fast. Chatwing, a development company of applications, has recently launched a chat widget that can provide a stream of communication for health bloggers. Now, visitors of these health blogs will be able to post their questions and inquiries in real-time.
The latest version of the Chatwing chat box is also improved with social media integration. Now, Chatwing guests and visitors can log in with their Facebook and Twitter accounts. With this option, the blogger can now expand his reach socially. A regular Chatwing chatroom can accommodate up to 600 users, yet the dev team is planning to upgrade it to 1000. Additionally, the installation process of the Chatwing chat tool can now be accomplished in just seconds.
Few months ago, Chatwing's free shout box has been riddled with technical glitches. To deal with this, the dev team has introduced several useful upgrades. As months came, the upgrades removed the glitches wave by wave, making the chat tool more reliable than ever. This reliability created a domino effect across the blogosphere, leading to thousands of signups day by day. The Chatwing team has noted large percentage of signups from the health blogging niche, as well as travel and blogging. Many bloggers have also benefited a lot from the easy installation mechanism of the free chatbox.
The Chatwing team is solely dedicated to empower the field of health blogging. This is because of the fact that many people are looking for quick answers to their health dilemmas. Chatwing's free chat box can help people gain communication leverage in the least possible time. Recently, the Chatwing team has also conducting intensive marketing campaigns in Facebook, Twitter, and Google+.
About Chatwing.com
Chatwing.com has developed live chat software for websites and blogs. It caters to different online communities due to its high rate of connectivity. Everyone can create a customizable live free chat widget in 1 minute or less. Users have the ability to customize the size, color, and fonts of the chat product. The ability to chat via social media accounts such as Facebook and Twitter enable Chatwing to offer a personal and unique real-time experience to all sites. Chatwing is 100% available and very easy to use.